Here at Unison, we seek out and collaborate with an array of independent artists and designers, offering distinctive accessories, hard goods, and art that infuse homes with the clean beauty and functional substance of modern American design.
This year we're especially excited about our most recent collaboration on a limited edition throw blanket with artists and co-founders of The Weaving Mill, Matti Sloman and Emily Winter. We sat down with Matti and Emily to learn more about their creative process and all things weaving. Read on to learn more and watch our video of the weaving in action!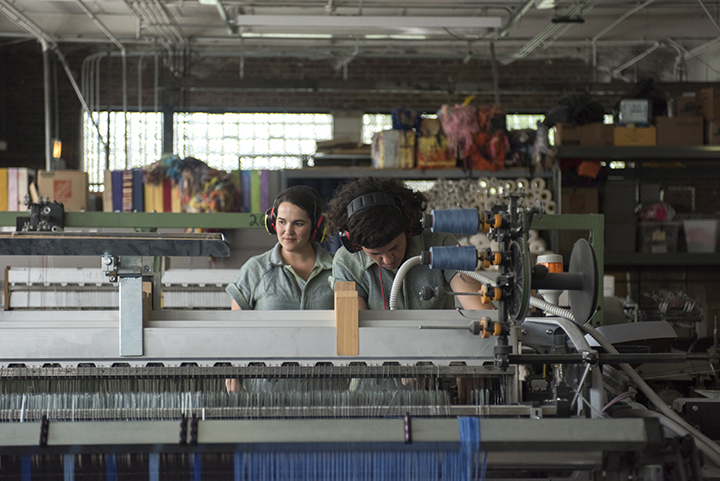 Briefly introduce yourselves
Emily: I grew up in San Francisco and moved to Chicago for college. I got my B.A. in History from University of Chicago. I started weaving right after I finished college, interning with Natalie Boyett at the Chicago Weaving School. I spent the next couple years working with her, teaching at Envision Unlimited and doing various odd jobs. I moved to Providence in 2013 for a Master of Fine Arts in Textiles at the Rhode Island School of Design. Matti and I overlapped for one year in the MFA program and hit it off.
Matti: I grew up in Boston and got my BFA (Painting) and MFA (Textiles) from RISD. I have worked for a number of artists over the years as a studio assistant, which informed my desire for a collaborative studio practice. After grad school, and before moving to Chicago, I participated in the Land Arts of the American West residency which expanded my understanding of the studio as a practice vs. a place.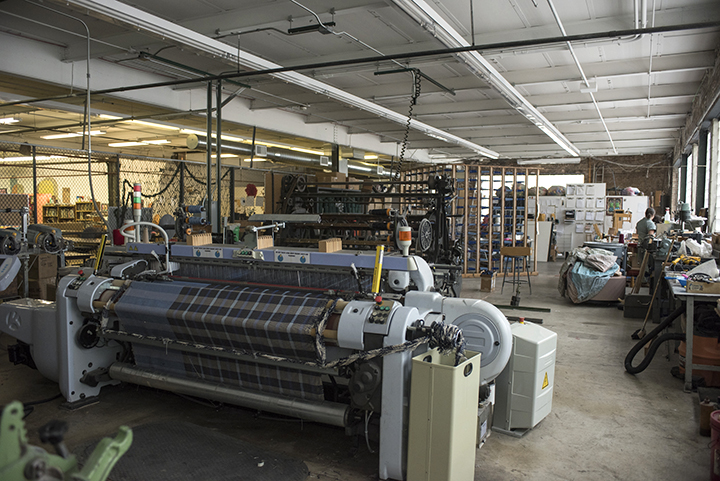 What is the history of The Weaving Mill?
The Weaving Mill is an outgrowth of the Chicago Weaving Corporation, a textile company that started in the 1940s. The CWC began in Wicker Park, moved to the suburbs in the mid 80s and in 2005 partnered with social services agency Envision Unlimited to create a job training program for adults with developmental disabilities.
I (Emily) worked at Envision Unlimited as a teaching artist and knew Jim, who ran the mill. When I was in grad school, I learned that he was retiring and that there weren't any concrete plans for the textile equipment. I started talking with people at Envision and at RISD about the possibility of restarting the weaving program at West Town Center. I asked Matti if she would be interested in coming to Chicago to work on this together and she said yes, she would. We both moved to Chicago in the summer of 2015 and started cleaning up the workshop, learning the equipment, and teaching sewing classes to Envision's clients.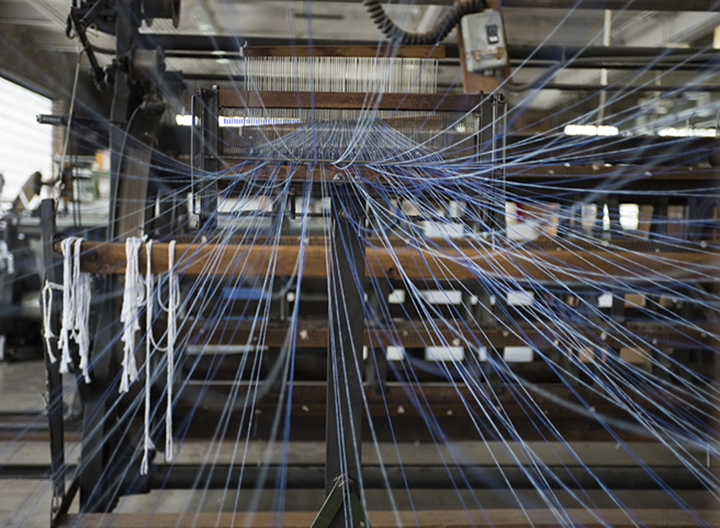 What is it about the art of weaving that you're drawn to?
Textiles are always in some in-between territory, between art and design, utility and aesthetics. This makes it a really meaty medium to work in, because it always pushes a little bit against some of those conventions. We like that the fabric we make always moves into the world in ways we don't anticipate.
Can you talk a bit about your residency program?
Hosting an artist-in-residence was a fundamental program of The Weaving Mill since our initial brainstorming conversations. We always imagined The Weaving Mill as a multifaceted organization. Looking towards The Fabric Workshop as an inspiration, we believe the integration of working artists into our studio and the art program at West Town Center would elevate everyone's practice. We received a Propellor Fund grant last fall that has funded our pilot program. This summer, three artists, staying for a month each, have brought their studio practices and energy to West Town Center. Each artists contributes 16 hours of workshops for Envision Unlimited clients. The remarkable response to the workshops has solidified the importance of continuing the residency next year.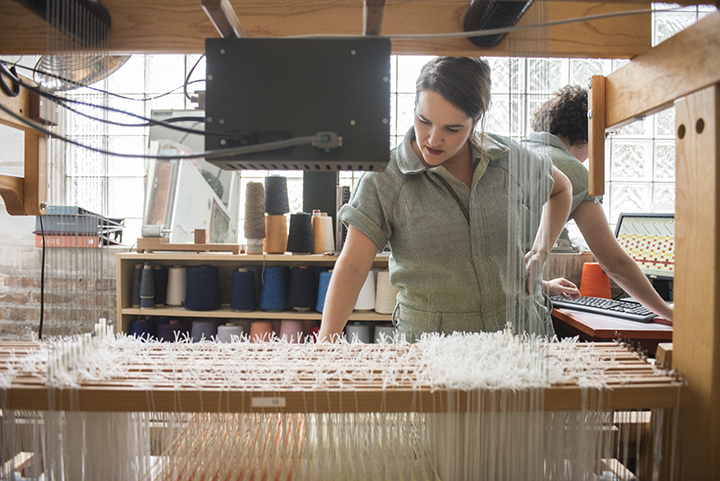 Do you find weaving to be a fairly accessible medium for your students?
West Town Education for Textiles (W.E.F.T.) is our textile education program at West Town. We work with two groups of Envision clients twice a week, building up sewing skills. We work on cutting, measuring, design, and sewing machine skills. Our hope with this program is that participants will become comfortable with these skills and be able to use them in their personal lives and in the future, for paid production work.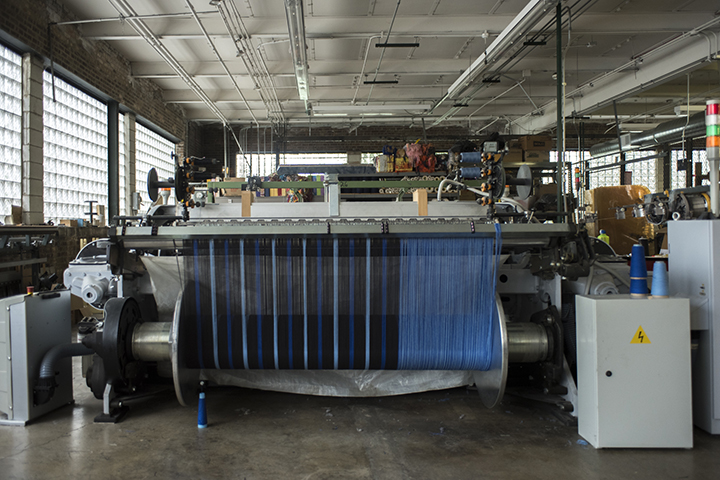 How did you begin working with Unison?
When we discussed The Weaving Mill prior to moving to Chicago with our RISD faculty, they would nod and whisper "you need to talk to the people at Unison," as if they were giving us top secret stock tips. We have admired the level of design coming from Unison from afar, but it took Liz Collins, mentor, artist and former classmate of Unison Co-Founder Robert Segal, to give us the moxie to make contact. Eventually we hosted the team here to The Weaving Mill to geek out and talk weaving. Several months later, when Unison Production Designer Erica Lubetsky proposed this collaboration, we were beyond excited.
Shop the Unison x The Weaving Mill Throw Blanket here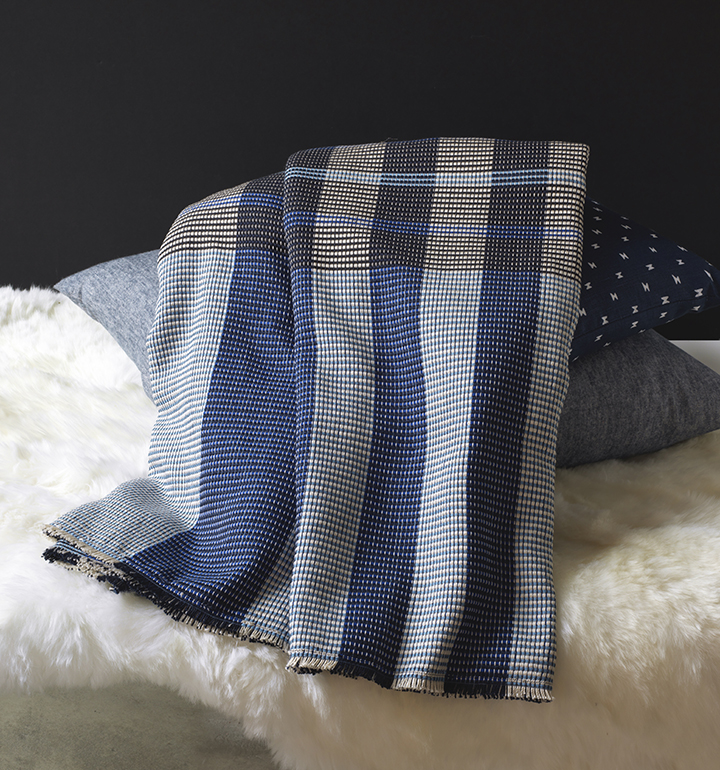 Have you partnered with other brands before? If so, which one(s)?
We are working in 3 realms right now: we do our own projects (TWM Projects), which are single-run editions of textile objects. We have done 3 of these projects so far (100 Blankets, VA! Jackets, and A Very Big Blanket) and have more coming up. We also work with artists to do more experimental yardage—this involves a process of collaborative sampling and really thinking about how to push the possibilities of our looms. We are currently working with Portland artist Sarah Wertzberger on a project, as well as Providence artist Jungil Hong. We do collaborative design and production work with other businesses—we have done projects with print designer Rebecca Atwood, apparel designer Jamie Hayes and artist Nuria Montiel (for Jamie's line Production Mode), and textile studio Herron.
What is next for The Weaving Mill?
We recently had an exhibition at Wheaton College and we are working on the next TWM project (Navajo churro wool blankets), and we have a couple of collaborations cooking. Sign up for The Weaving Mail!