At our recent store event: Well-Fashioned Feast, we asked stylist extraordinaire Janelle Gonyea to bring her table styling tips and tricks to assist Unison customers with their own holiday entertaining. We chatted with Janelle about her background, style inspiration and how she entertains in her own home.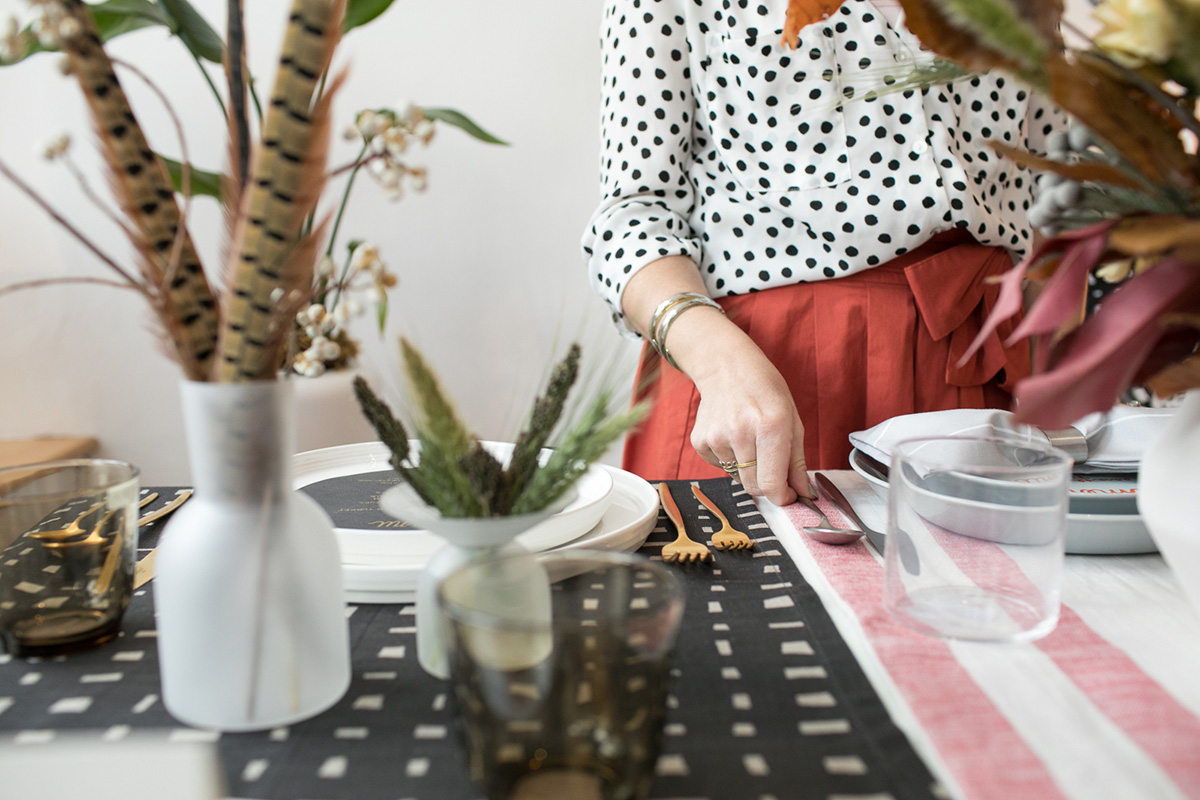 Tell us a little bit about your background and how you became interested in styling:
I have always been interested in telling stories through creating beautiful color palettes and styled vignettes. I have an arts education, and that has informed much of my creative career. I began as an illustrator and graphic designer drawing and arranging items on a page. From there I moved onto arranging flowers and have since eased into styling objects in space.
My love for styling arose out of a fascination with storytelling. You see a scene and wonder what is happening there, and the objects begin to give you pieces of that story. It can take you back in time, recall a memory, or inform a brand's aesthetic and lifestyle.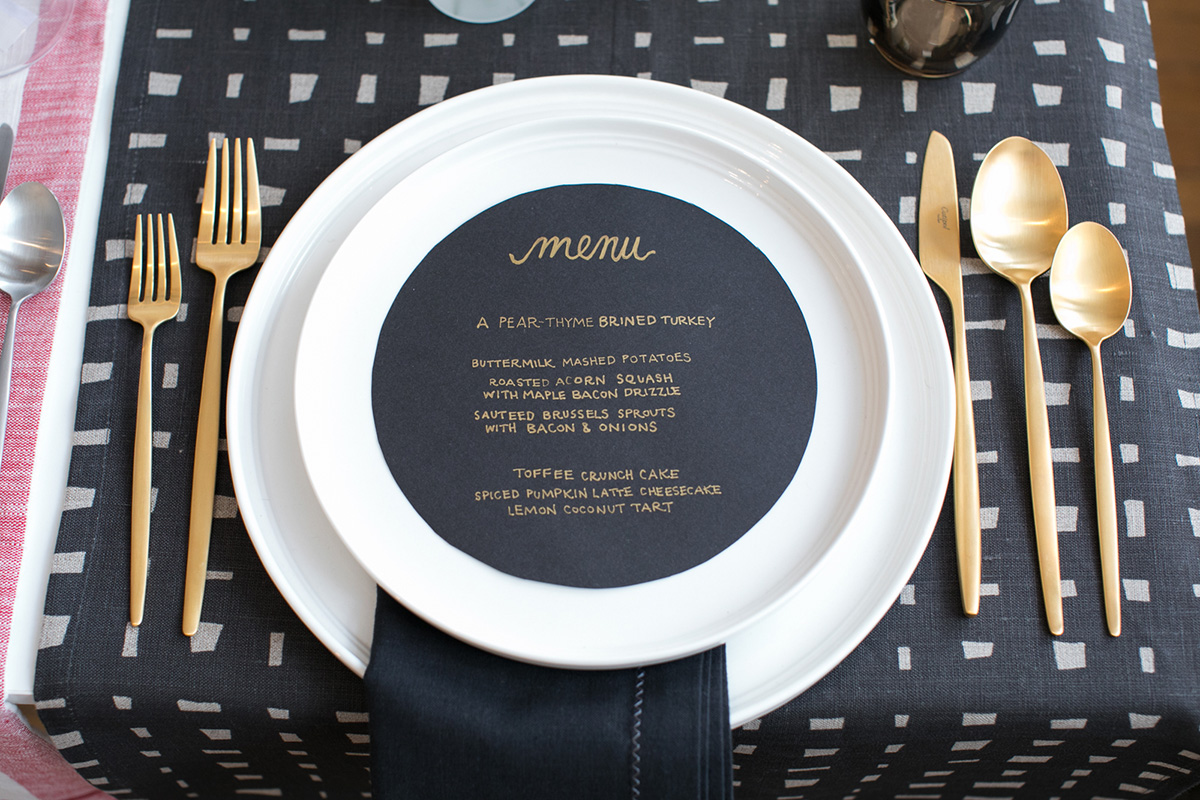 We especially loved the handmade elements you added to the table, particularly your illustrations. Is that something you often incorporate into your table styling?
I certainly do! Adding handmade elements to styling gives it a more personal touch and adds more life to the table or scene. I think if it can be handmade, it should be! My education was in illustration, so it's a skill that I love to embellish with when appropriate.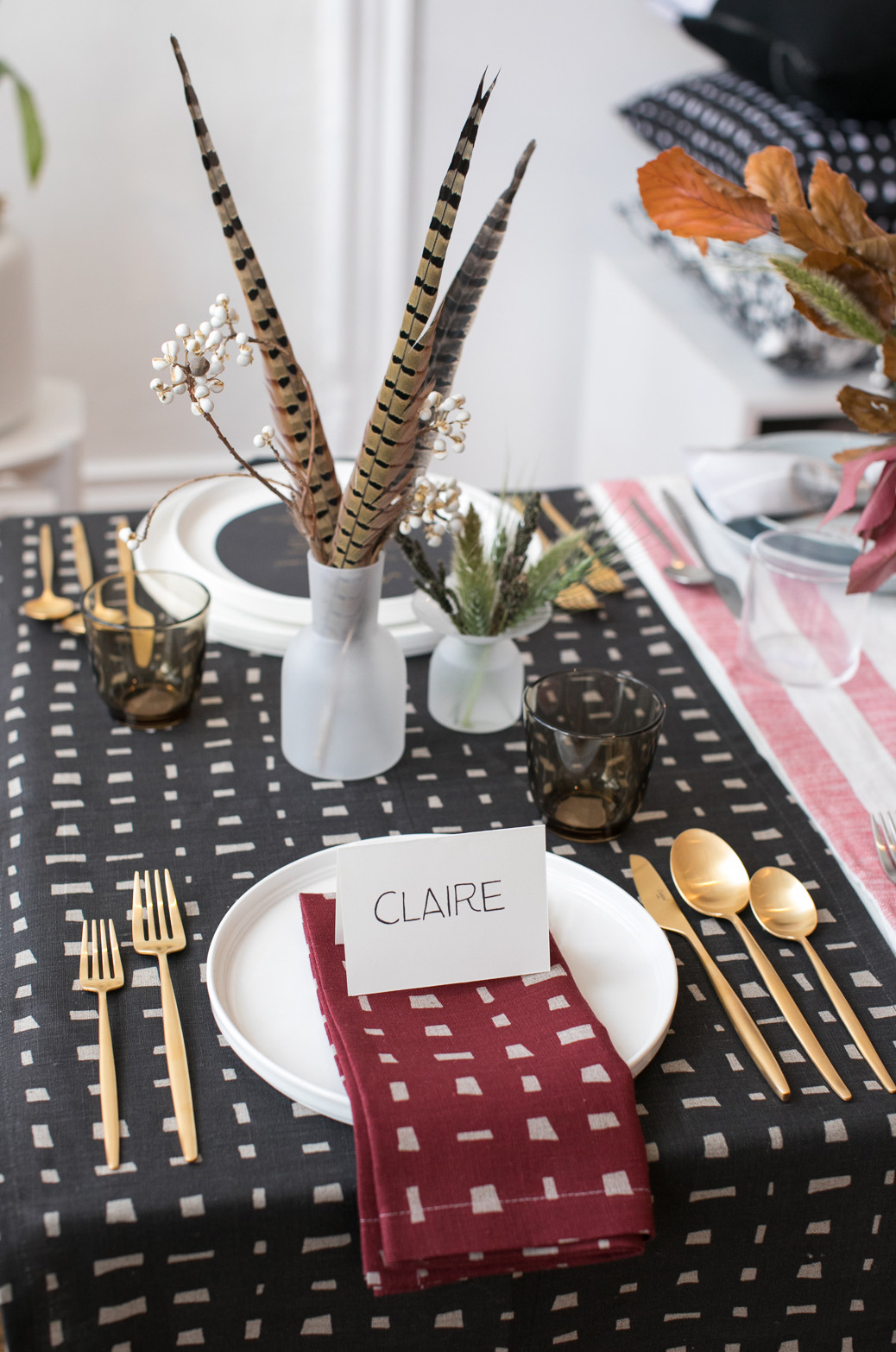 How did the Unison products inspire you in creating your tablescapes?
Unison products are incredibly inspiring, especially because you really cannot go wrong with any combination. They defy rules, and encourage you to play. I adore the minimal patterns and limited color palettes, because they provide a foundation for incorporating your own style. By mixing and matching details you can be playful, dramatic, quirky, or romantic.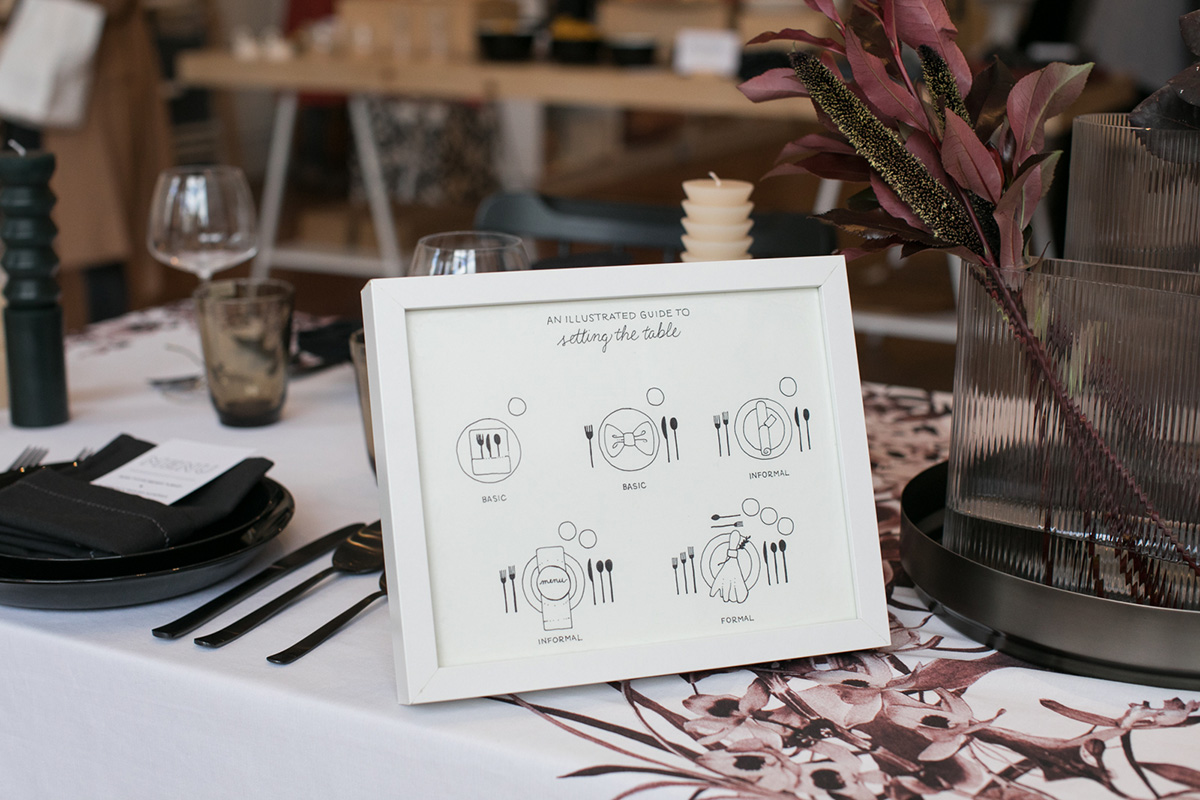 Styling for the holidays with Unison products gave me a chance to explore all of the pieces of place settings that I may not use on a regular basis.  I love having an opportunity to be expansive and really embrace table settings for multiple courses. Their cast iron collection was incredibly enticing, and I could just picture one at each place setting overflowing with an earthy homemade individual pot pie or ginger pear crisp!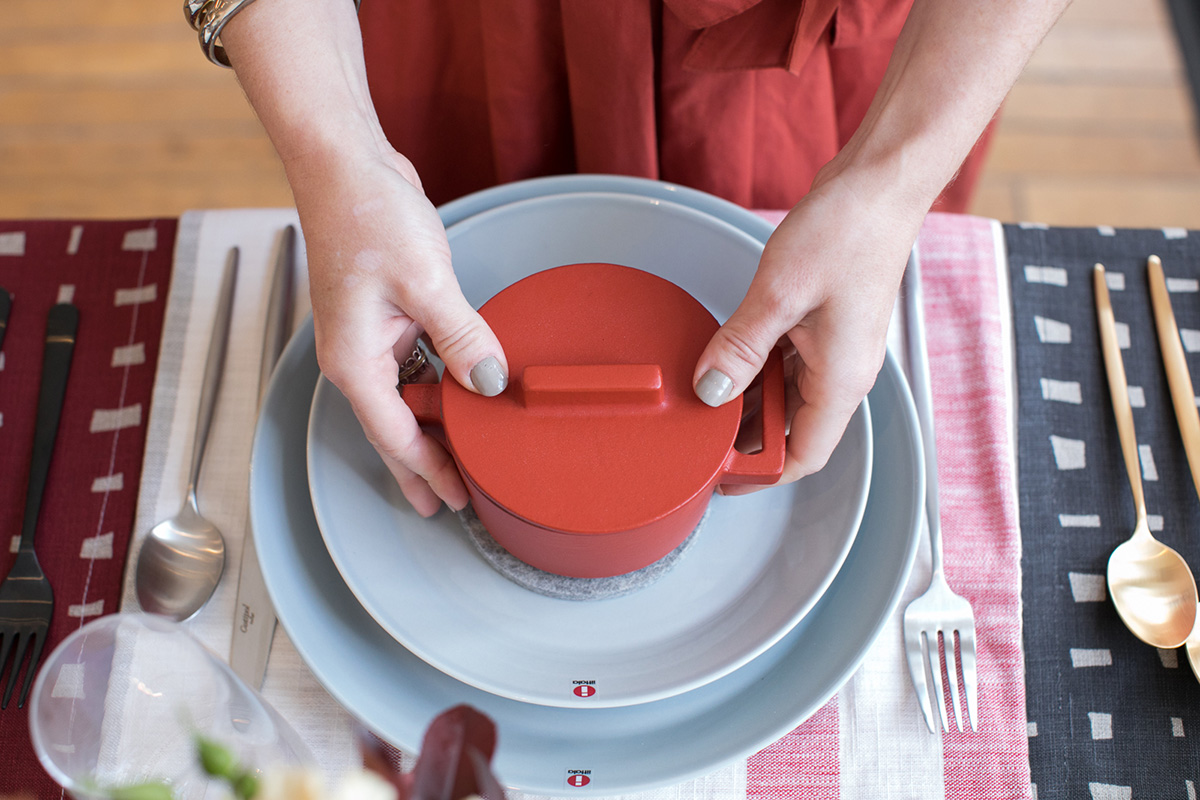 What was your main goal in executing each of your table settings? Do you often have an overarching concept for your tables that dictates your styling?
My main goal was to showcase various place settings and creative ways to play with napkin placement while adding personal elements. While some people tend to worry about them, I don't believe in following all the rules. That being said, I wanted to provide a range in settings from basic to formal because the holidays tend to bring together traditions and honoring many generations.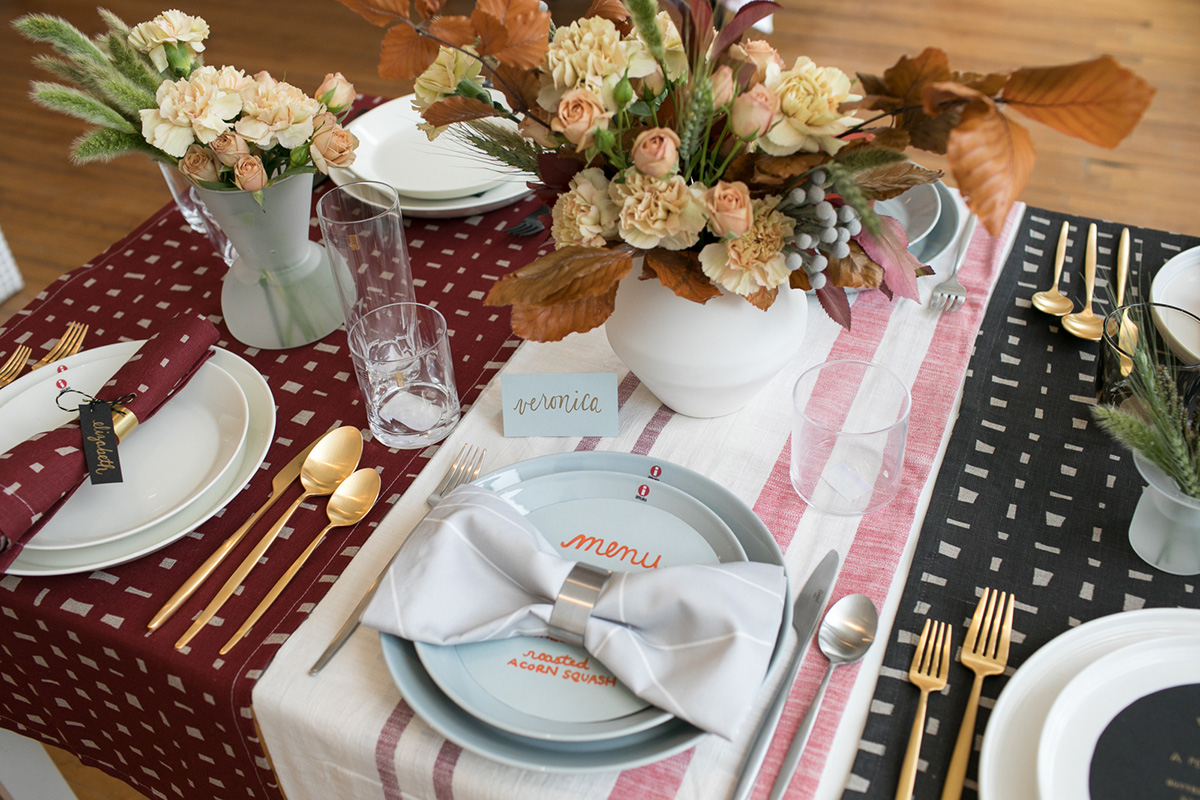 When styling tables, I am often drawn to particular palettes or ambiguous concepts like "desert landscape" or "wintry mountain" and build out from there. Florals always play a huge role, and I am still a fan of family style tablescaping and long communal tables. They're more interactive and allow you to really play with settings and accompanying details.
What is your general philosophy regarding entertaining? Do you like to entertain within your own home as well?
I love bringing people together and sharing a meal over delightful conversation. With entertaining, I think atmosphere plays a huge role, and I like to create tablescapes that would set someone at ease and make them feel welcome. Recently I held a gathering on the night of a Supermoon, so I used a deep indigo runner accompanied by marble cake stands, milky white platters, speckled blue bowls and lunaria flowers.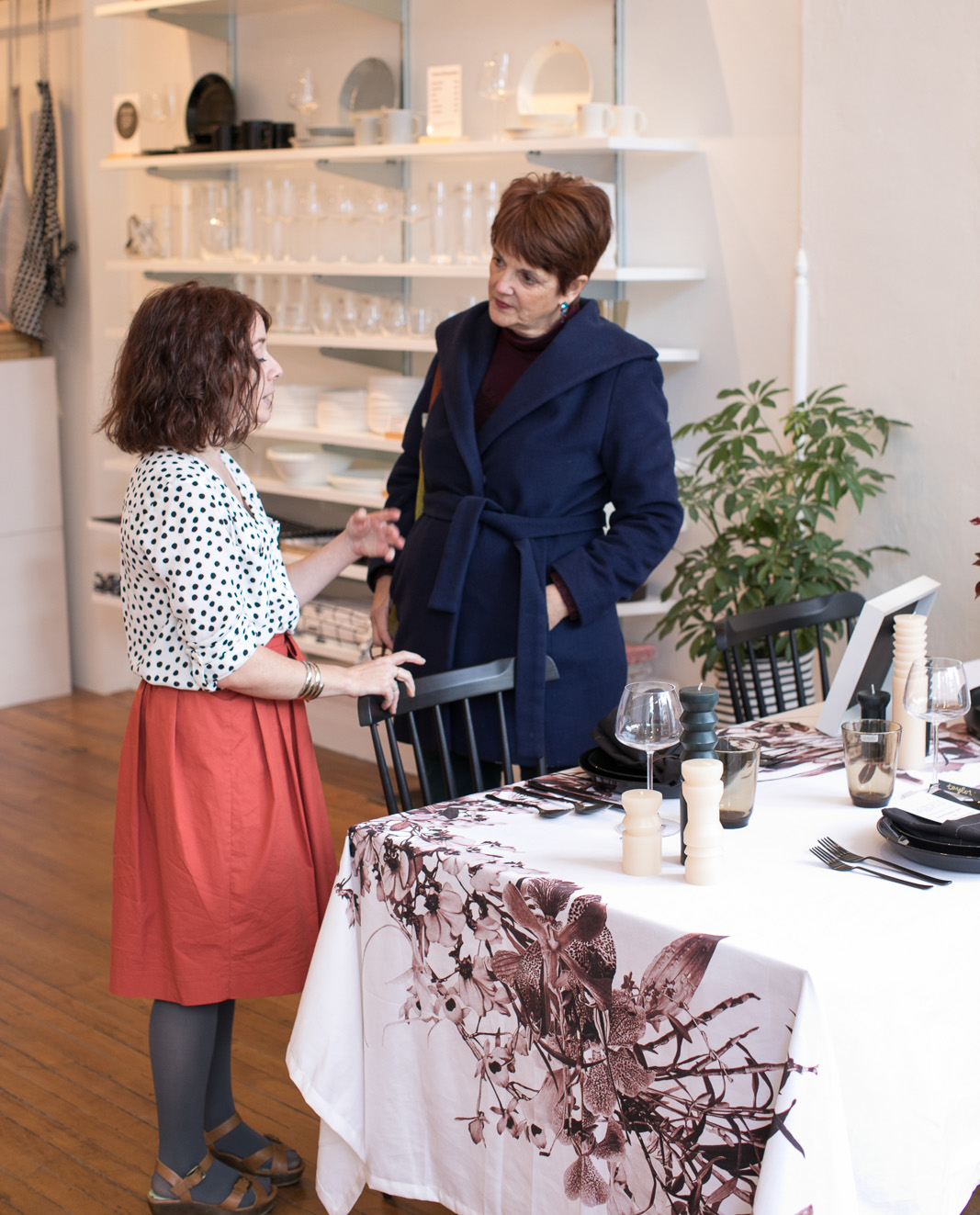 Do you have any additional tips for last minute holiday entertaining prep?
I would say not to worry too much about the "rules" and just have fun with it. Be yourself and embrace your unique style. Beyond the essentials of table settings from lovely shops like Unison, consider adding a simple name tag for seating or drink labels. Handmade elements are always nice, and adding a small vase of flowers gives your table a warming touch.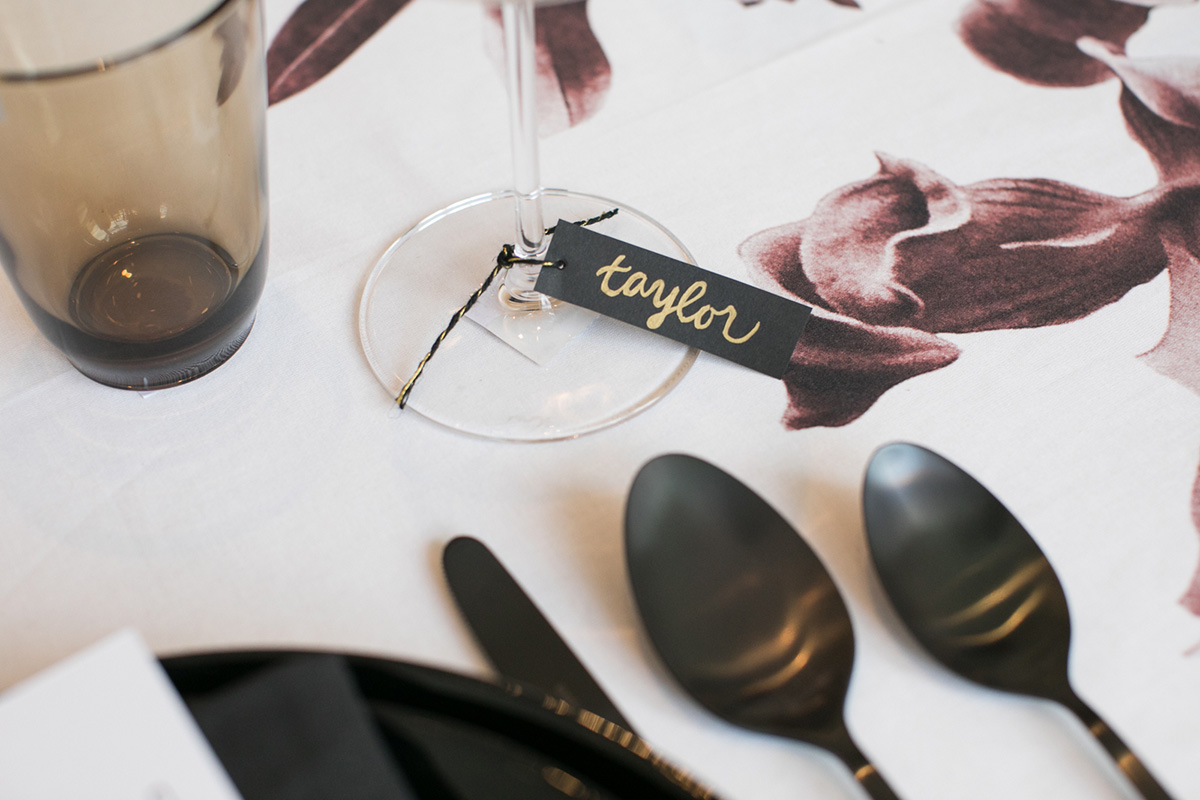 Textiles are a great way to lay a foundation for color, and have a transformative effect on any table setting. A simple white, black or grey plate set can look fun and quirky on a Market Plaid tablecloth or deep and dramatic on the Garland Wine Tablecloth. Holidays are the time to bring out all of the special details you might not use on a daily basis!
See more styling from Janelle Gonyea here