We recently ventured over to Last Ingredient Blog founder, Paige Adams' Wicker Park kitchen to cook up some yummy recipes with our cookware for Spring. In this three-part blog series, Paige takes over and guides us through preparing spring salads, cooking for Easter + infused waters.
Without further ado, here's Paige: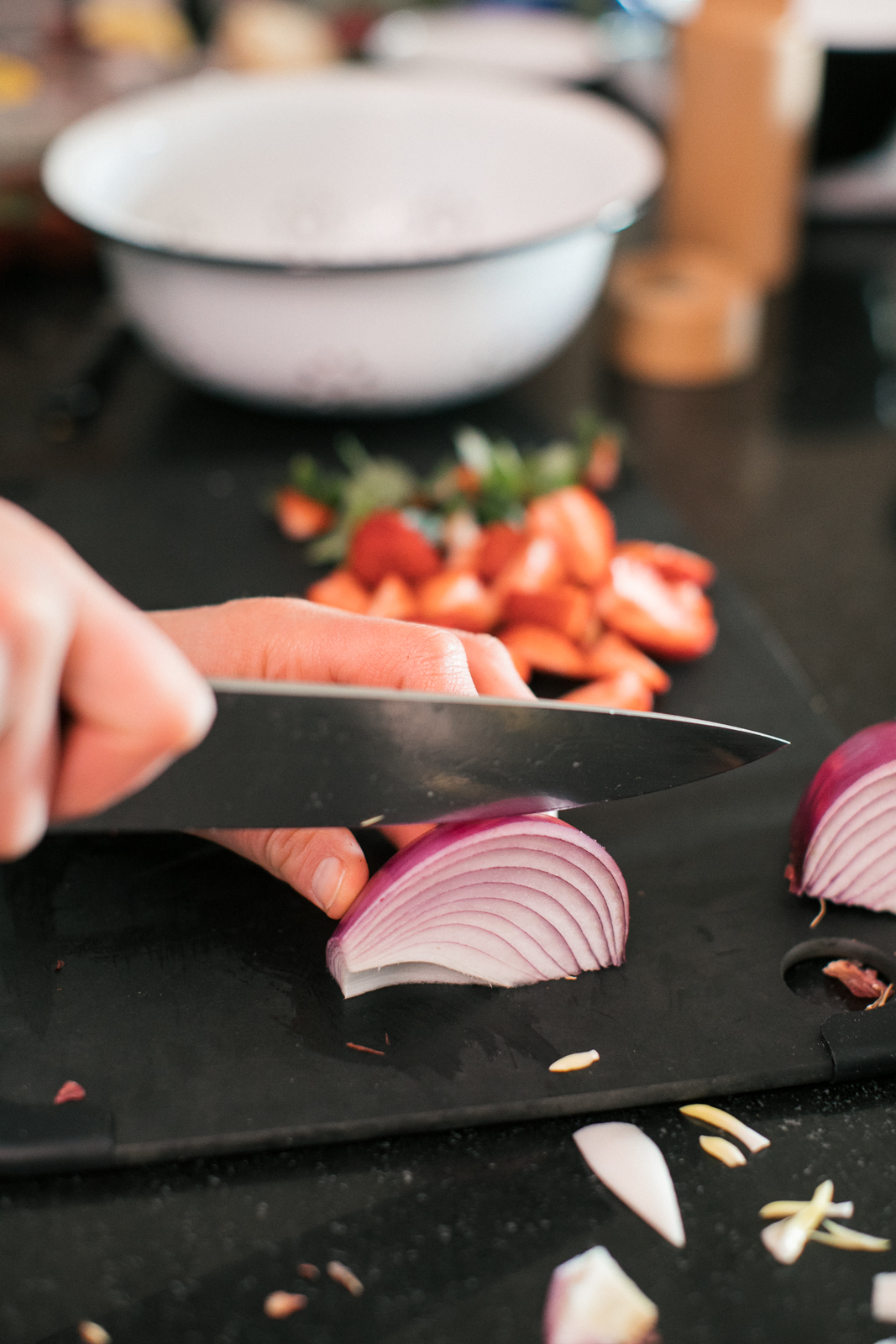 Spring Salads
After a winter filled with hearty meals and comfort food, I get very excited about spring produce and especially salads. What better way to show off delicate fruits and veggies than keeping things seasonal and simple? For a fresh and easy from-scratch lunch or dinner for friends, I like to serve a variety of salads, each with a different base—baby greens, grains and even toasted bread.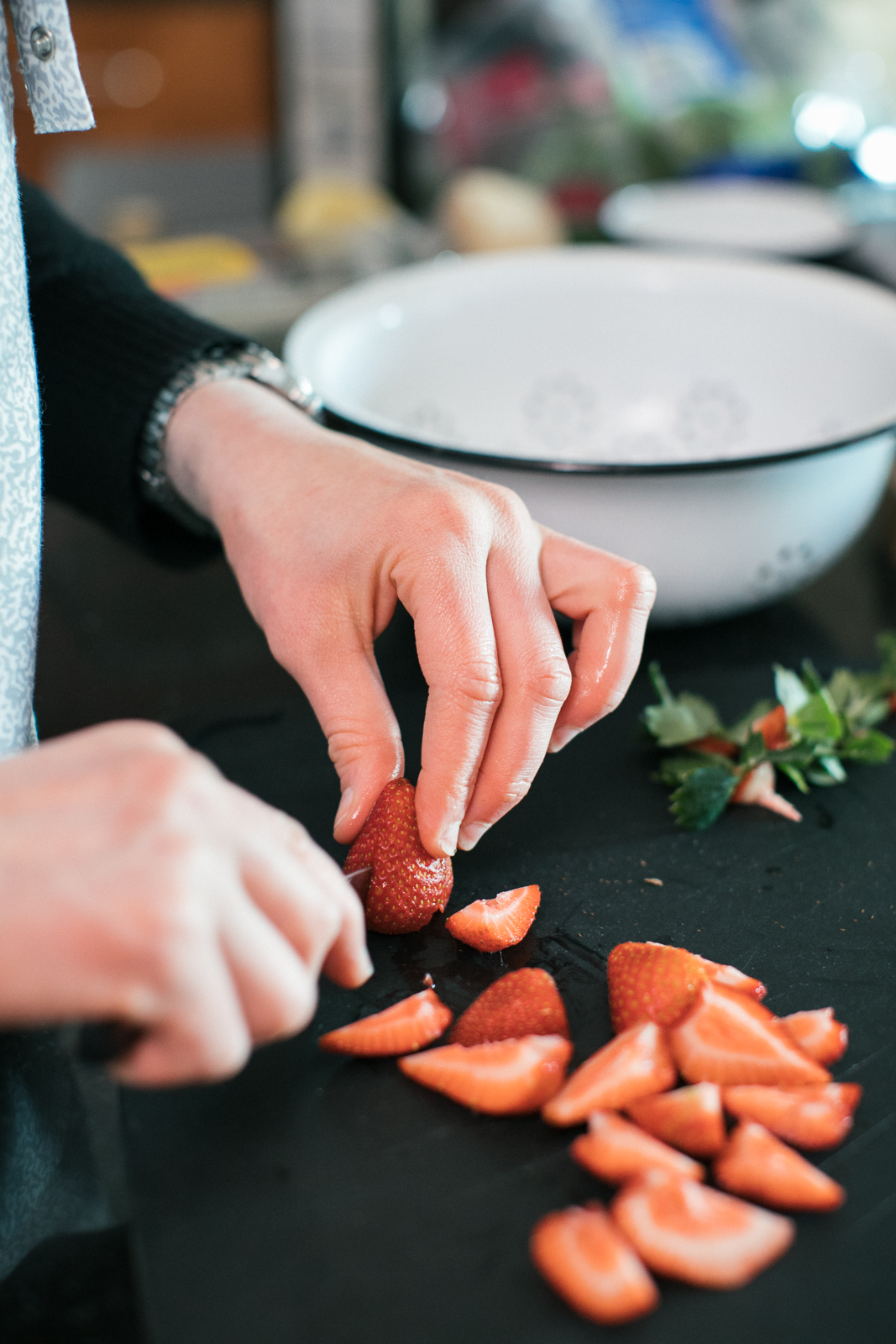 What makes salads satisfying is using a mix of flavors and textures from the salty & sweet combination of strawberries and smoked almonds in a spinach salad to crunchy croutons and creamy cannellini beans in a spring panzanella to crisp green beans and radishes in a bowl of fluffy quinoa. Go light when dressing the salads. You can always add more or serve extra vinaigrette in a small bowl.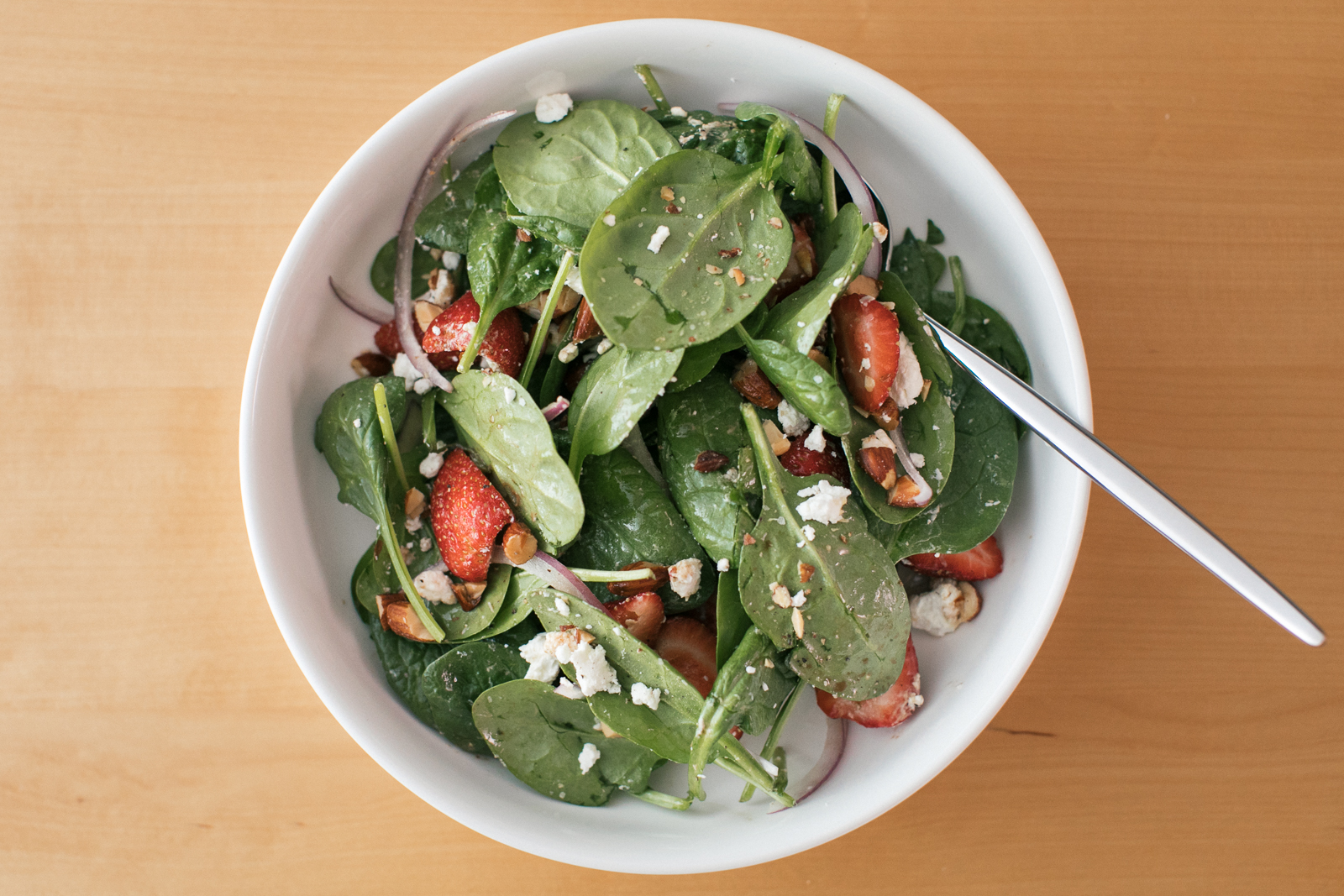 Strawberry Spinach Salad
Serves 4
1 shallot, minced
2 tablespoons balsamic vinegar
1/4 teaspoon kosher salt
1/4 teaspoon black pepper
1/4 cup olive oil
5 ounces baby spinach
1-1/2 cups quartered strawberries
1/2 small onion, thinly sliced
1/4 cup crumbled goat cheese
1/4 cup chopped smoked almonds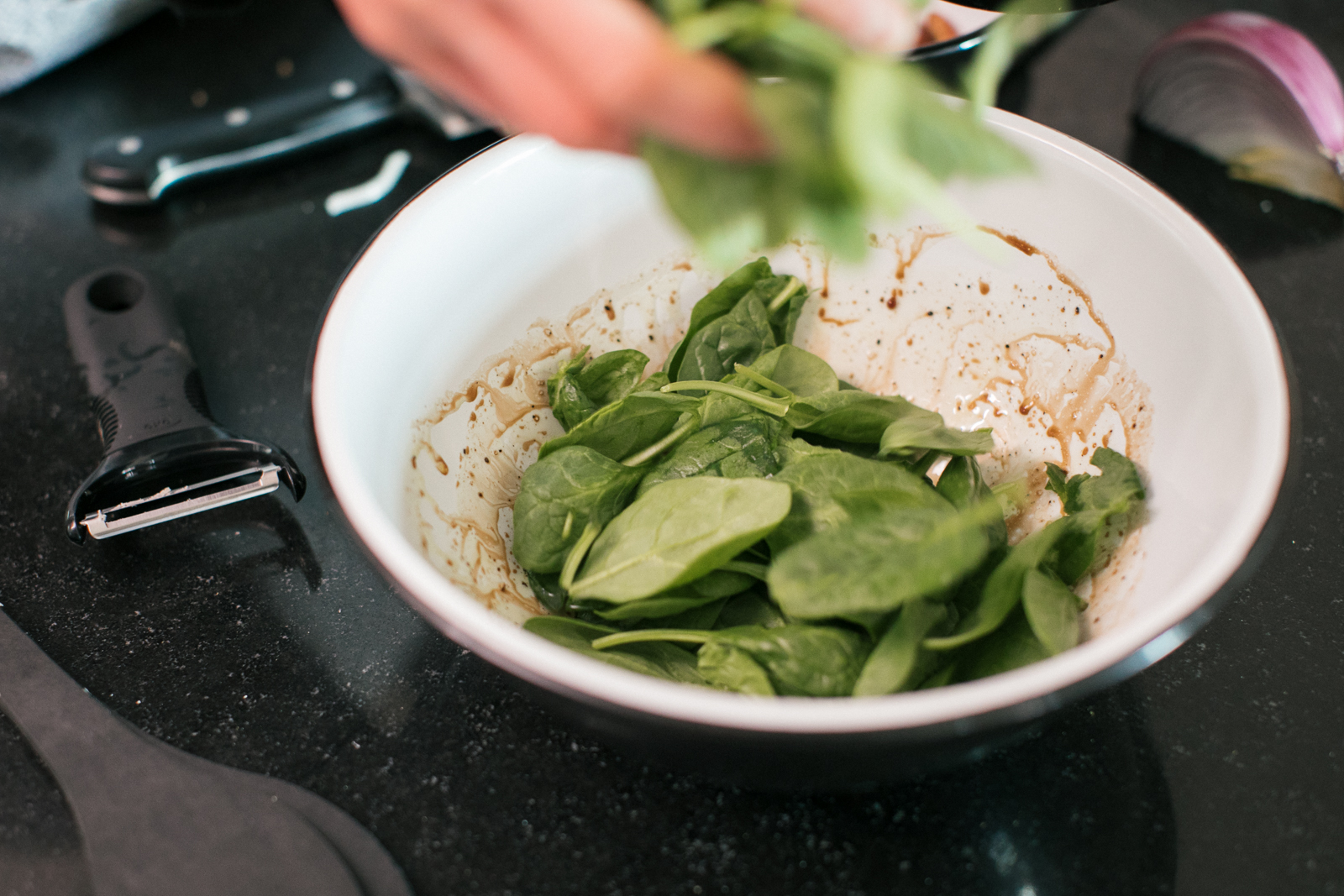 In a large bowl, whisk together the shallots, balsamic vinegar, salt and pepper followed by the olive oil until fully combined. Tip the bowl around to coat the inside and pour the excess into a small bowl.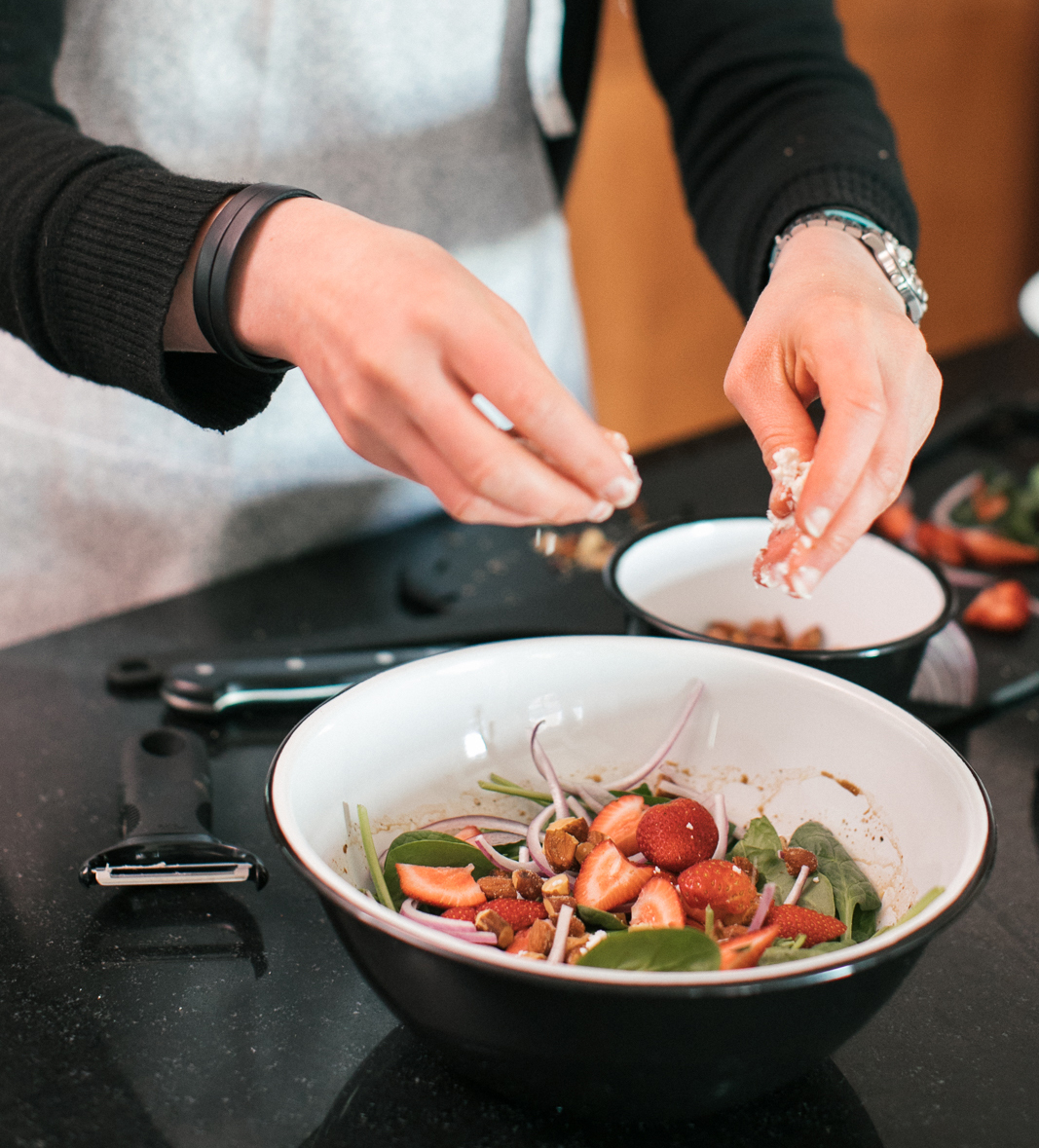 Toss together the spinach, strawberries, onions, goat cheese and smoked almonds in the large bowl. Add more vinaigrette as desired.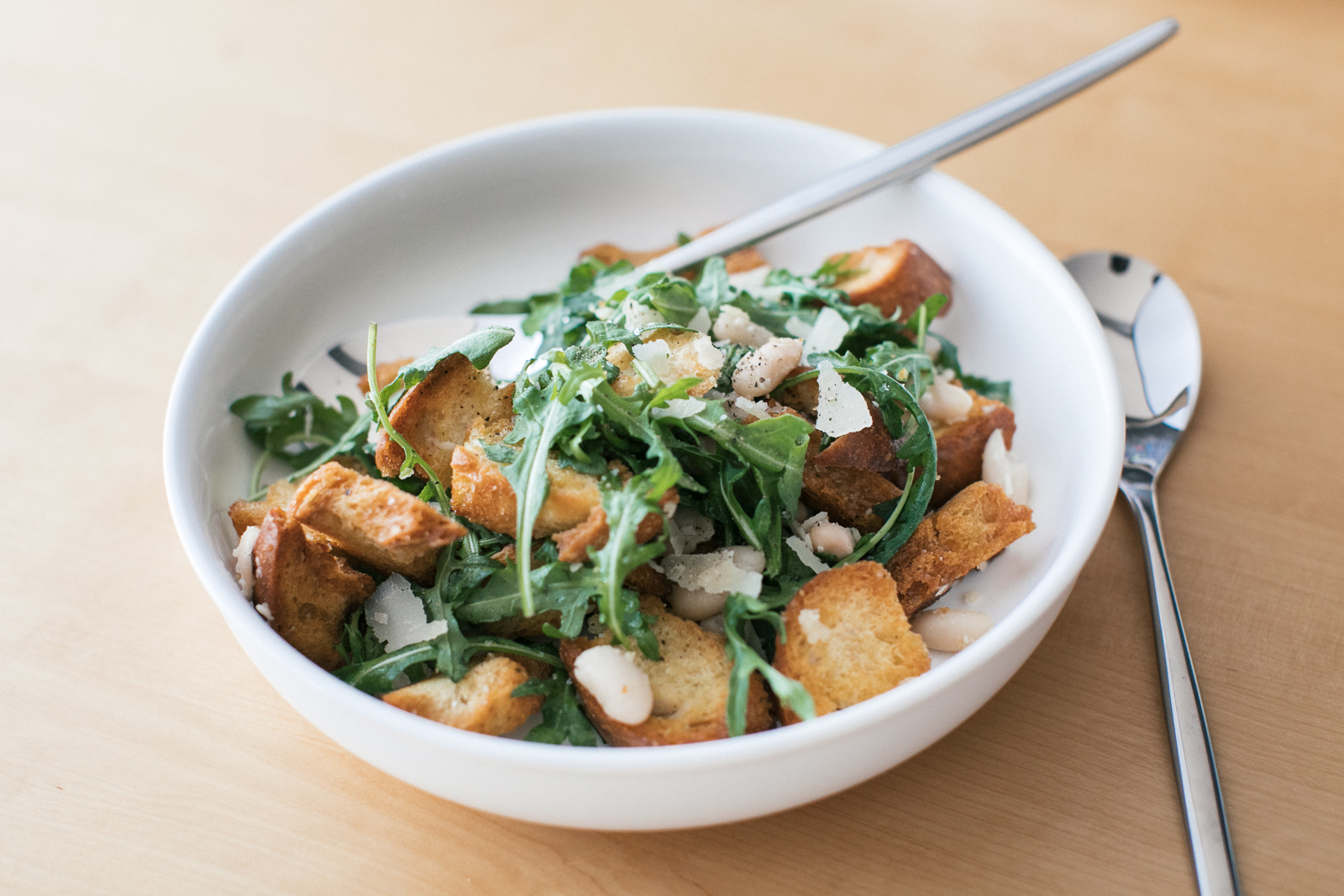 Spring Panzanella Salad
Serves 4
1/2 loaf crusty country bread (about 6 ounces)
1/4 cup plus 1 tablespoon olive oil
1 teaspoon kosher salt
1 teaspoon black pepper
2 tablespoons fresh lemon juice
1-15 ounce can cannellini beans, rinsed and drained
3 cups baby arugula
1/4 cup grated Parmesan plus shavings for serving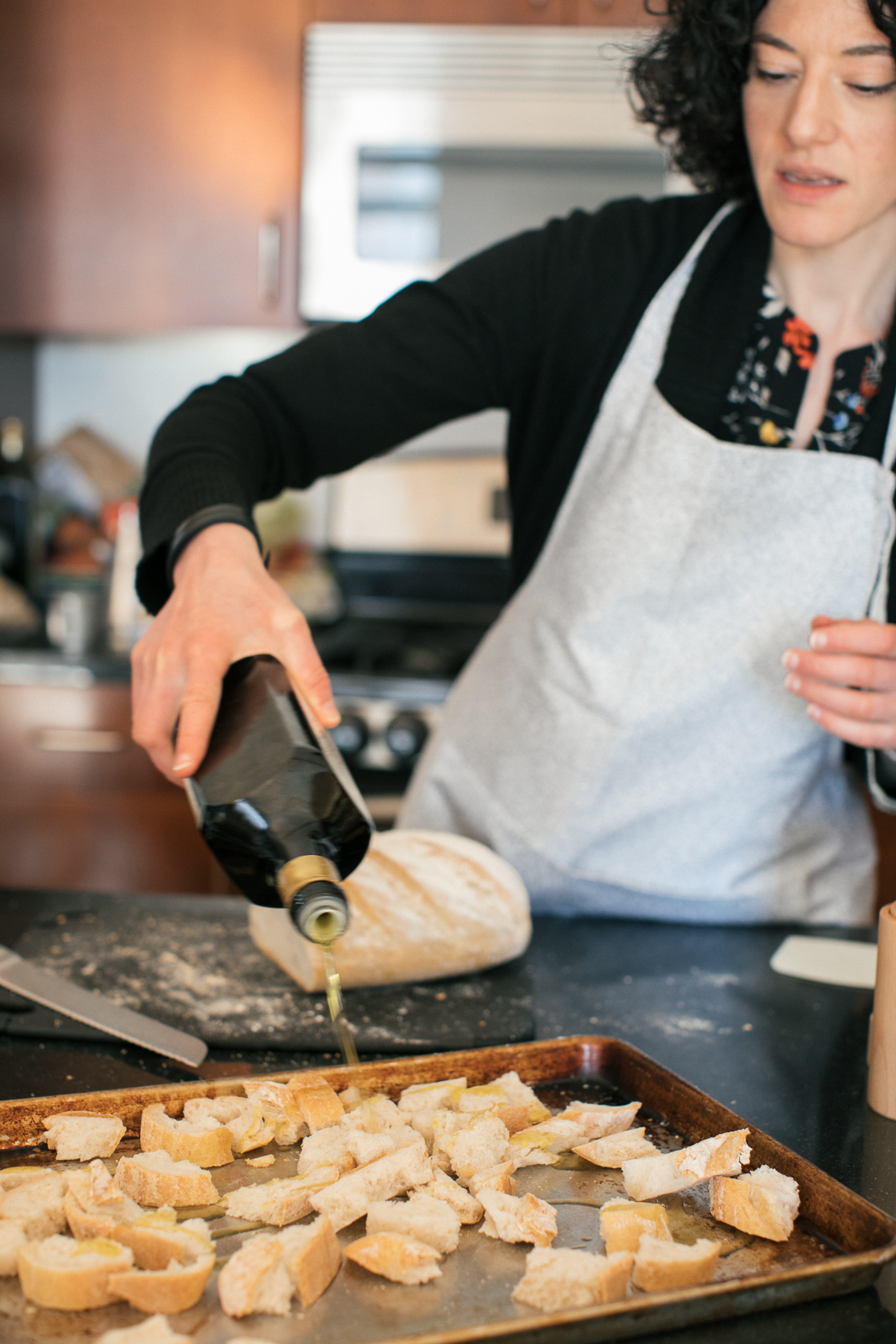 Preheat the oven to 425 degrees F.
Cut the bread into 1/2-inch-thick slices. Tear the slices into rough pieces and place on a sheet pan. Toss the bread with 1 tablespoon olive oil, 1/2 teaspoon salt and 1/2 teaspoon pepper. Bake the bread until it toasted and deep golden brown, about 15 minutes, stirring halfway through baking.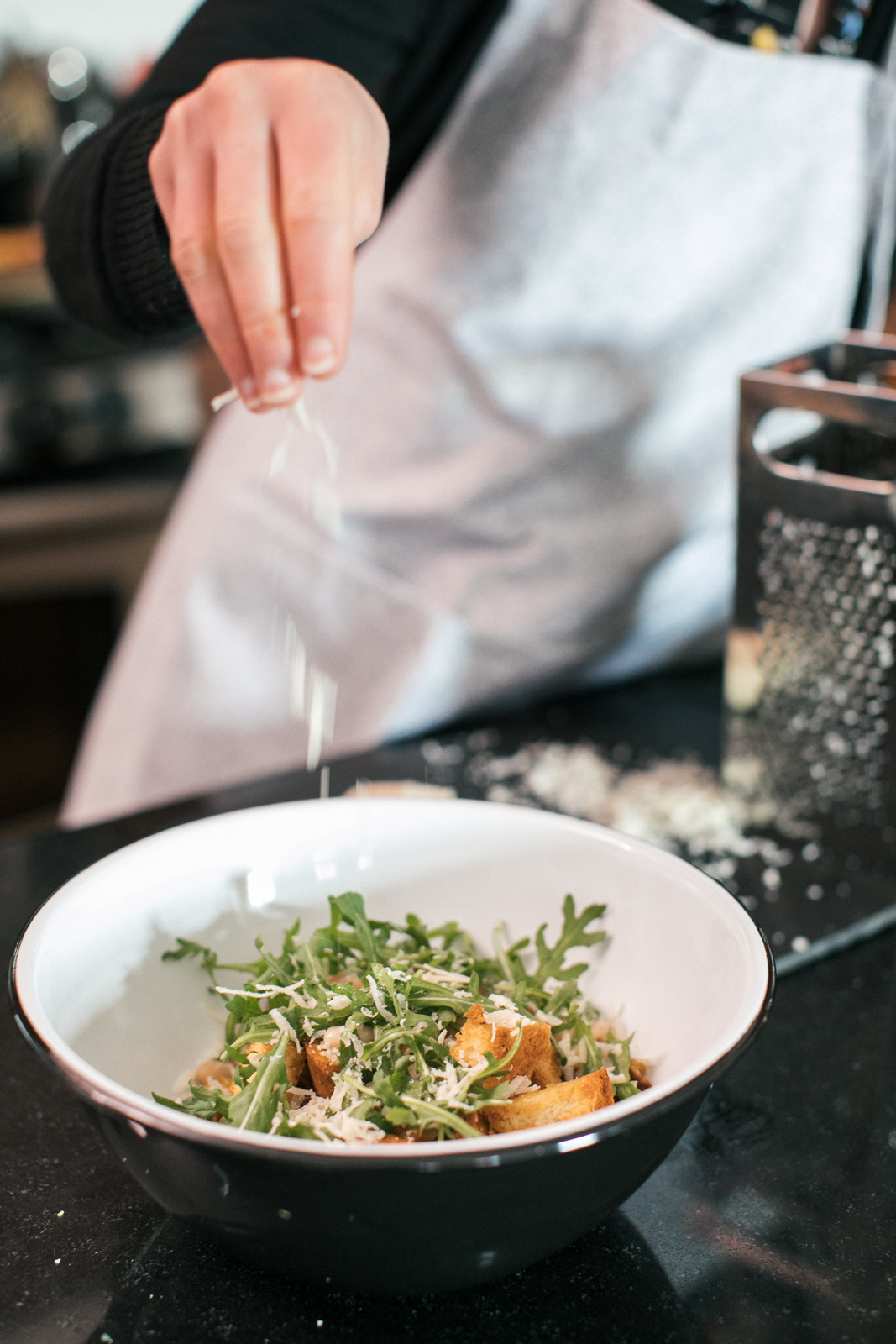 In a small bowl, whisk together the lemon juice and remaining salt, pepper and olive oil until fully combined.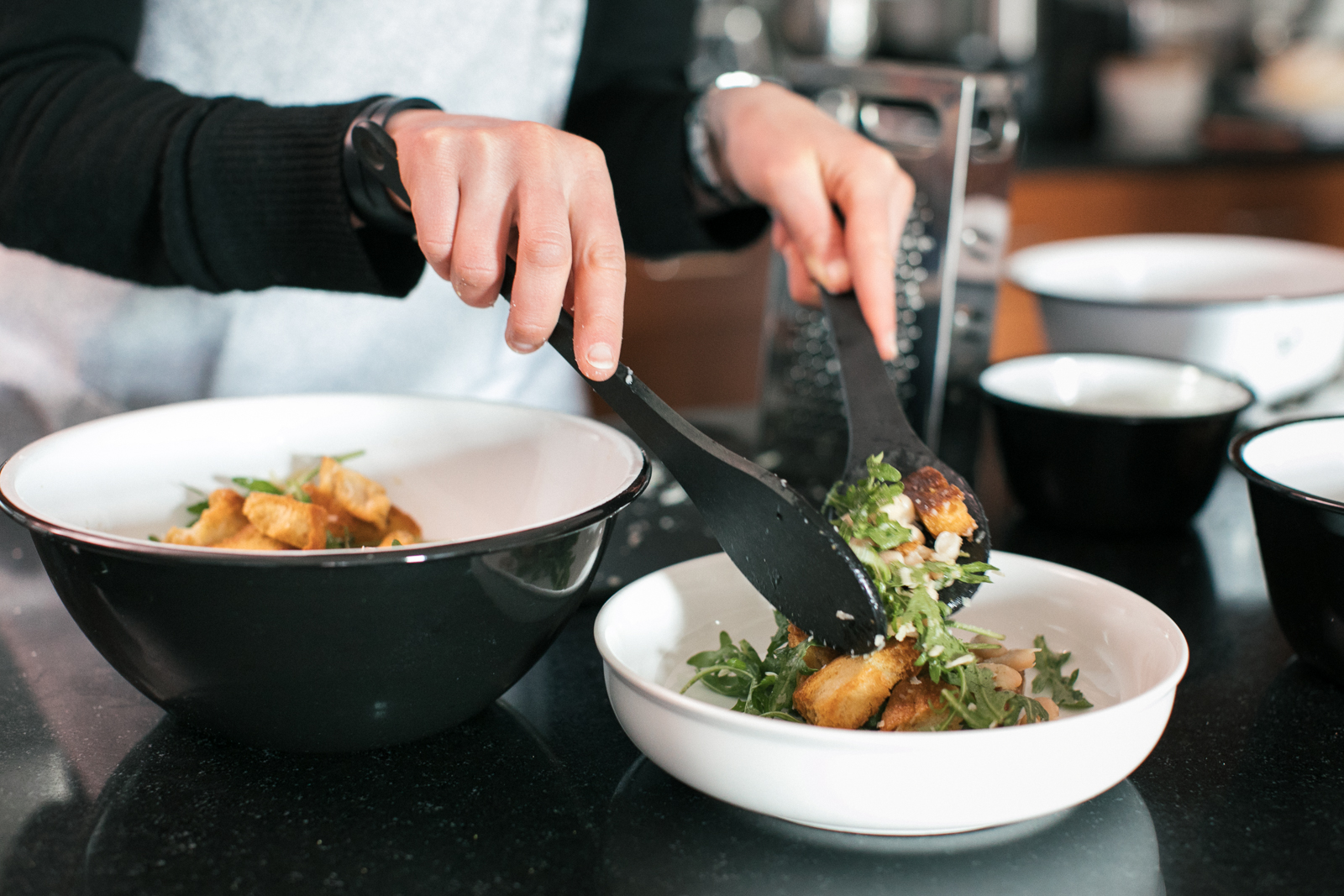 In a large bowl, toss together the bread, beans, arugula, grated Parmesan and vinaigrette. Top with shaved Parmesan before serving. (shop Epicurean Slate Utensils + Merchant White Bowls)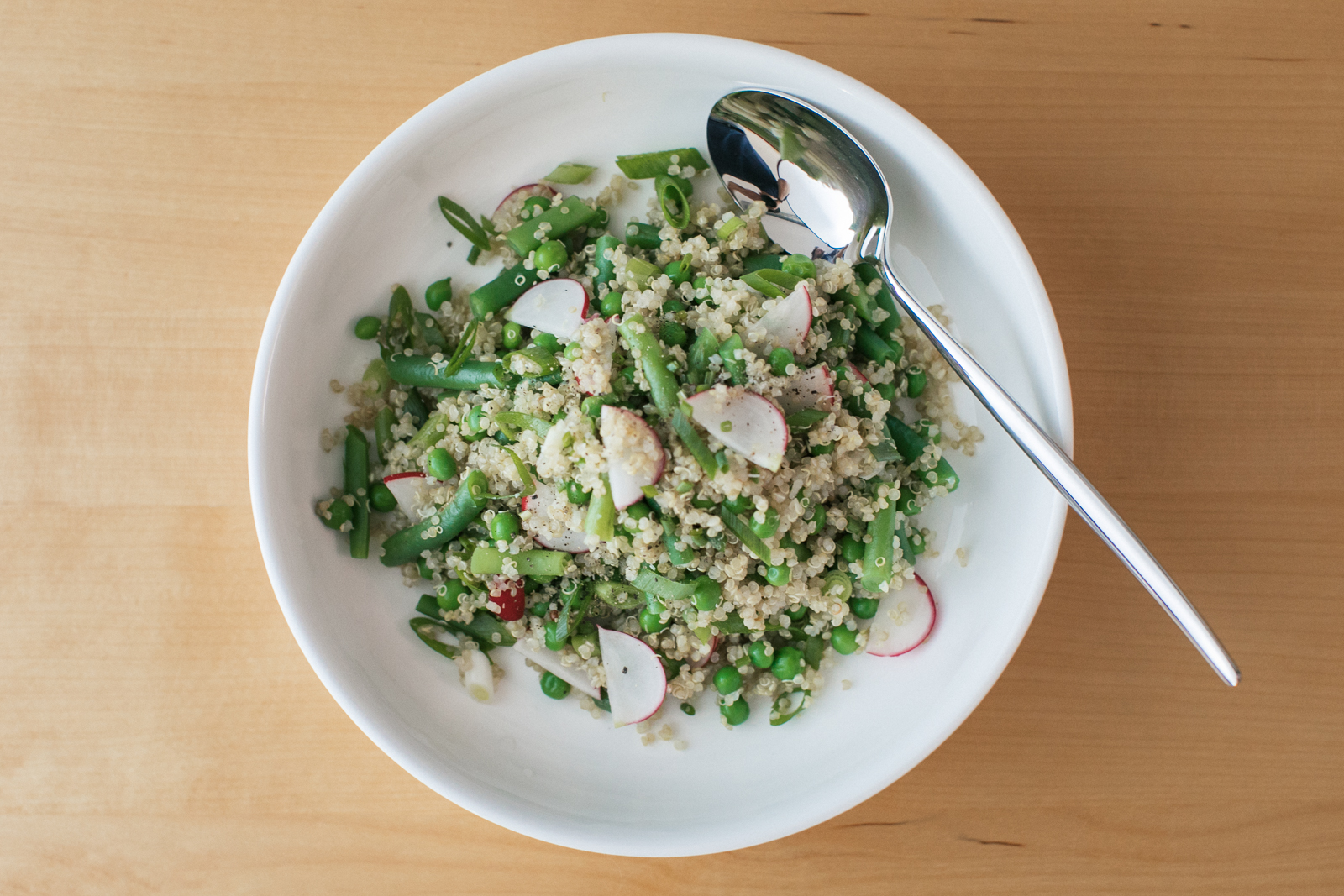 Quinoa Salad with Green Beans, Peas & Radishes
Serves 4
1 cup quinoa, rinsed
2 cups water
1 tablespoon lemon juice
1 teaspoon Dijon mustard
1/2 teaspoon salt
1/4 teaspoon black pepper
1/4 cup olive oil
1/4 pound green beans trimmed and cut into 1-inch pieces
3/4 cup fresh or frozen peas
1/2 cup thinly sliced radishes
2 scallions, thinly sliced
2 tablespoons minced chives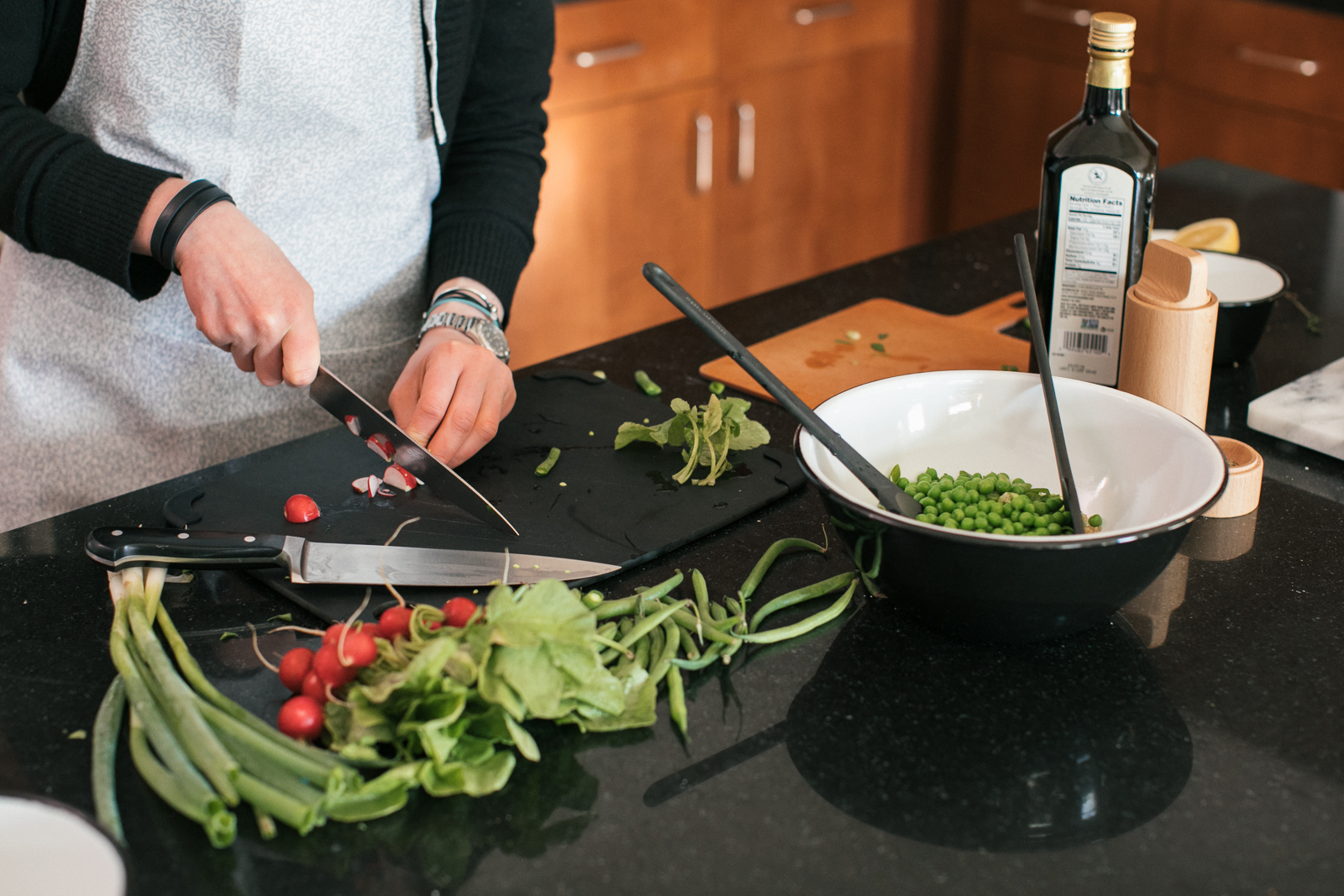 Combine the quinoa and water in a small saucepan over high heat. Bring the mixture to a boil, cover, reduce the heat to low and simmer for 12-15 minutes until the quinoa is tender and the water has been absorbed. Fluff the quinoa with a fork and transfer to a large bowl. (shop Epicurean Slate Cutting Board)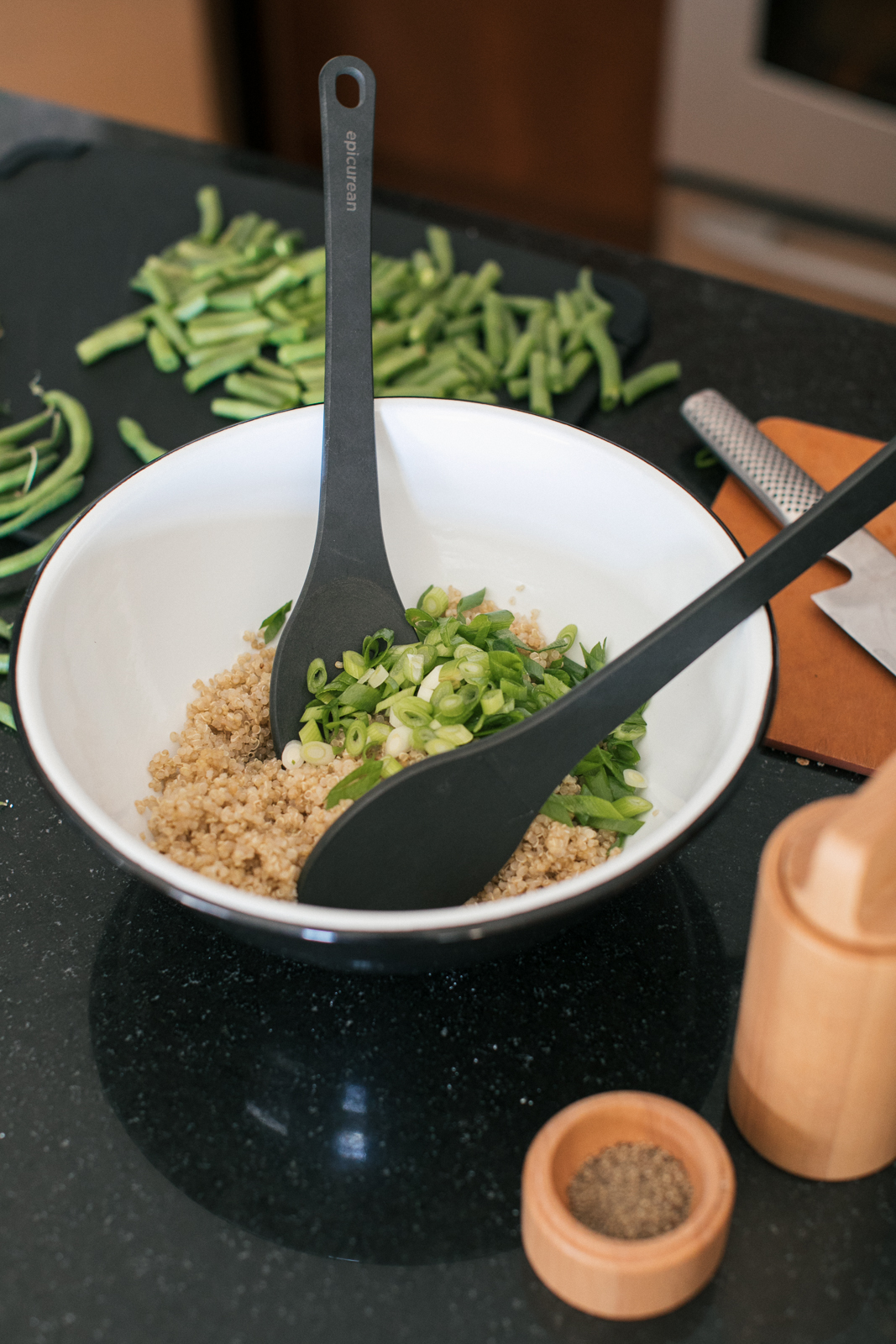 In a small bowl, whisk together the lemon juice, mustard, salt, pepper and olive oil. (shop the Knob Spice Grinder)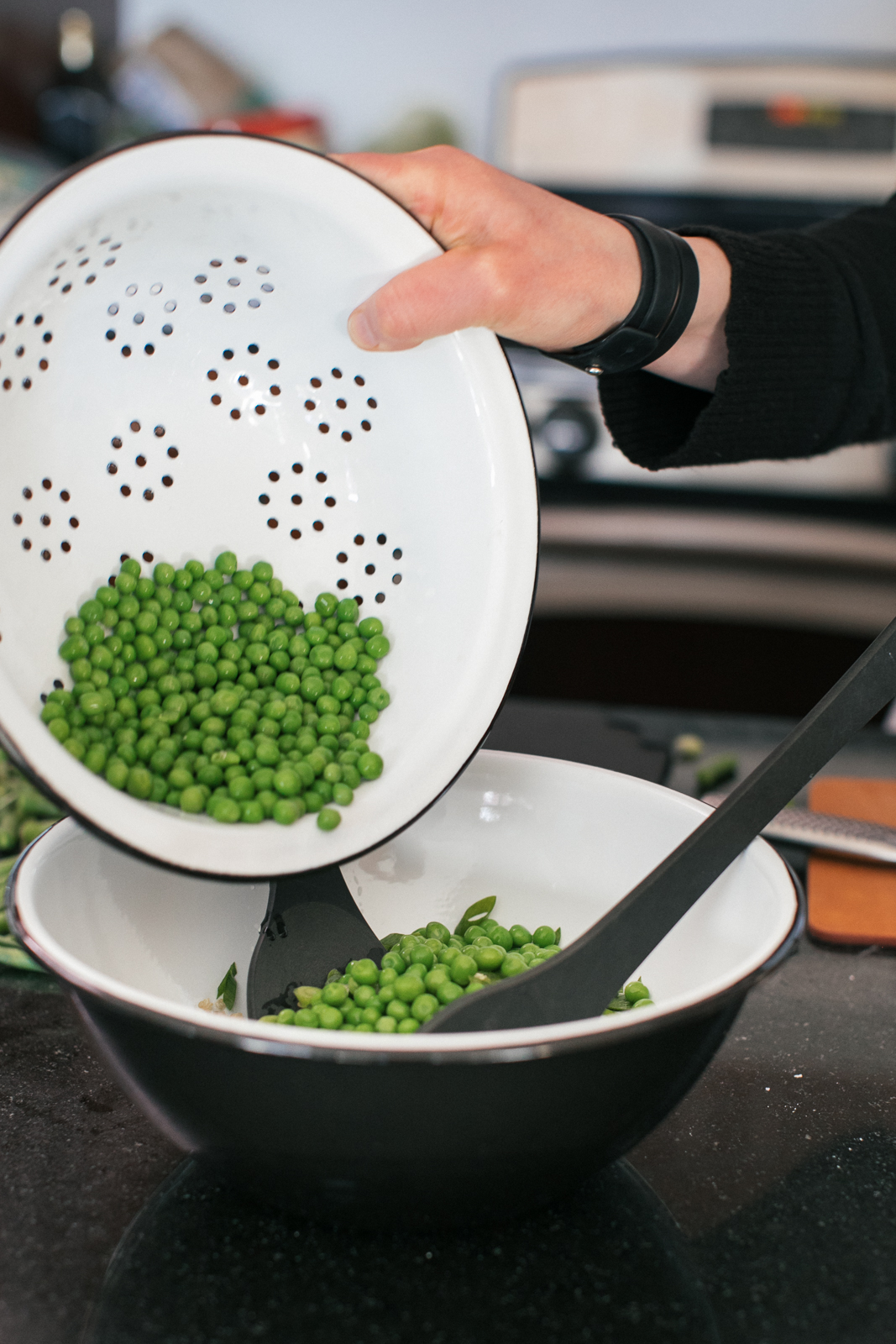 Bring a large saucepan of salted water to a boil. Cook the green beans and peas until bright green but still crisp, about 2 minutes. Using a slotted spoon, transfer them to a bowl of ice water. After a few minutes, drain and stir the greens beans and peas into the quinoa followed by the radishes, scallions, chives and vinaigrette. (shop the Falcon Prep Set)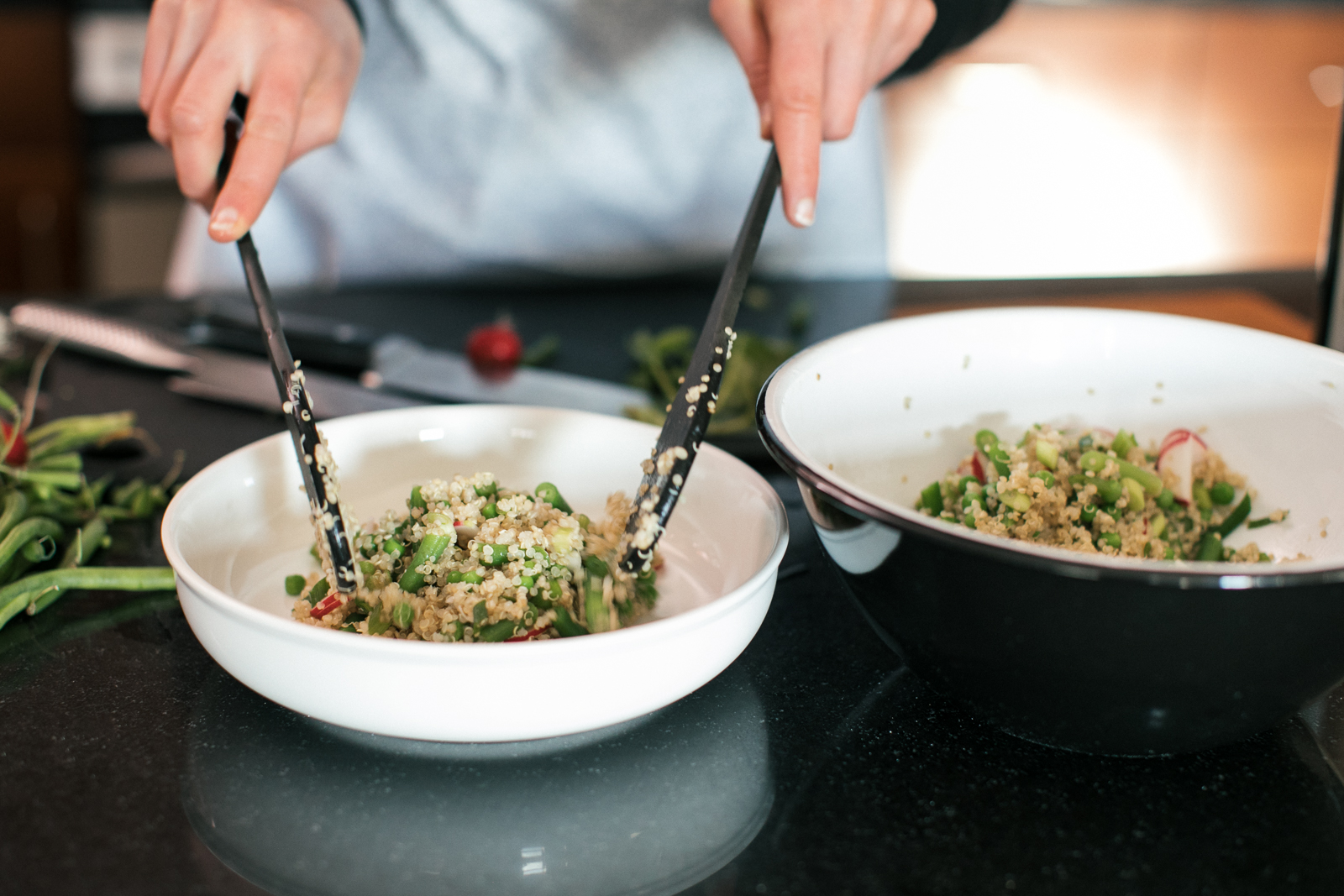 Full list of Unison cookware used:
Thanks Paige! Stay tuned for more fresh recipes for spring, and check out more on her blog: Last Ingredient