Unison neighbor Metric Coffee has been brewing unique, well balanced, and clean coffees since 2014. We've recently teamed up with them for a fall giveaway, and wanted to learn a little more about the coffee shop we visit every day, so we chatted with Matthew Steinbrecher — Manager of Metric West Fulton & Workshops Educator.
Q: How did Metric get started?
A: Metric Coffee Co. started in 2014 as a shared project by co-owners Xavier Alexander and Darko Arandjelovic. After purchasing a vintage German Probat roaster, the two began roasting out of a Humboldt Park garage, and soon moved into our current location on West Fulton Street. It didn't take long for the company to grow, as our work with chefs, restaurants, and cafes in the region quickly drove our wholesale accounts; since 2014 the company has grown to fourteen people.
Q: What are the advantages of your West Fulton location?
A: Since we were already occupying our current space on West Fulton, it made sense to put our first cafe location within our headquarters. Doing so not only provides visitors a direct view of the entire operation, but allows the cafe to become a 'test lab' of sorts – what is happening up front is a direct reflection of the work being done in back, with new offerings constantly coming in.
The space certainly presents some unique challenges; as any visitor to the cafe knows, it's a small space. It forces our team to work efficiently and creatively to maximize our space while providing what we'd consider one of the most sincere, hospitable, and excellent coffee experiences in a city flush with quality coffee. The cafe tends to function largely as a grab-and-go operation for the working crowd along the Fulton corridor, but we love it when folks are able to stay a while and engage a little further.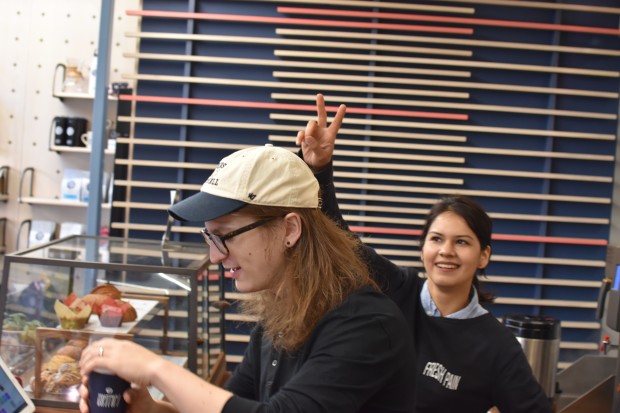 Q: You actually offer coffee workshops, like how to brew better coffee. How did these come about, and what are you hoping to offer in the future?
A: Offering public workshops and classes was integral in opening our space up to the public.
The premise of the Home Brewing and Espresso workshops is simple – how do the different variables at play come together to form the final brew that we drink? How do we talk about what we taste, and how did we arrive at that? Coffee and espresso preparation can easily be seen from the outside as unnecessarily complicated, frustrating, and maybe a little pretentious. I love breaking it down in a way that is easy to understand. For the more experienced crowd, we can get into the specifics of coffee extraction and Total Dissolved Solids (TDS) on the numerical level. It all depends on who is participating and what would actually be useful to them in a home setting. being able to teach these workshops is something that brings me a lot of joy, and I love sharing the tools to understanding coffee available to others.
Down the line we're looking to bring back our weekly coffee cuppings, Home Brewing workshops taught in Spanish, latte art classes, and more roasting tours and demos.
Q:  What makes Metric different?
A: Here at Metric West Fulton we take an incredible amount of pride in making amazingly delicious coffee as approachable as possible. Both Gabby and Connor, the wildly skilled (and kind) baristas on the cafe team, take a great deal of initiative in helping me shape our offerings, constantly refining our ways of working and preparing drinks. Being a part of the Metric team allows us to witness the huge amount of work it takes to bring coffee from seed to cup, which only makes us do what we do (as one of the final steps in the chain) with care and close attention. I like to think that we tend to the social life of that product — watching it play out into the daily lives of our neighbors, friends, and partners.