We've got another great recipe from Paige Adams at Last Ingredient Blog and this one is perfect for summer, pizza on the grill! Here's Paige with recipes for the pizza crust, yummy pesto + topping ideas: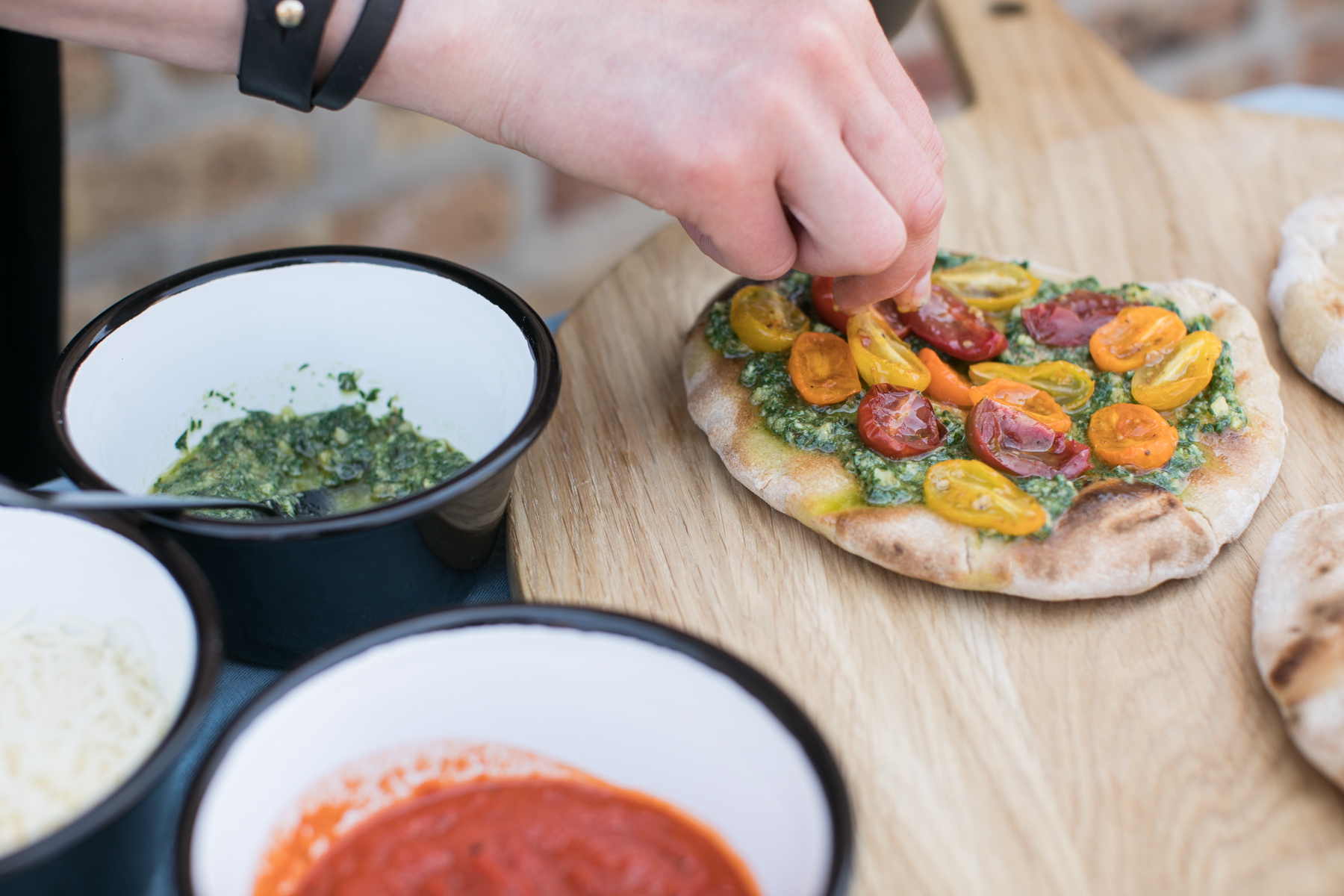 Pizza is on regular rotation at my house, and it's not because of my three-year-old. I'm the one who would be happy devouring a slice at every meal. Sheet pans, baking stones—you name it, I've made a pizza on it. The closest I've gotten to restaurant-worthy pizza is by putting the dough straight on the grates and grilling it. Thanks to the high heat of the grill, you get the kind of chewy crust with slightly charred edges you thought only was possible in a wood fired oven.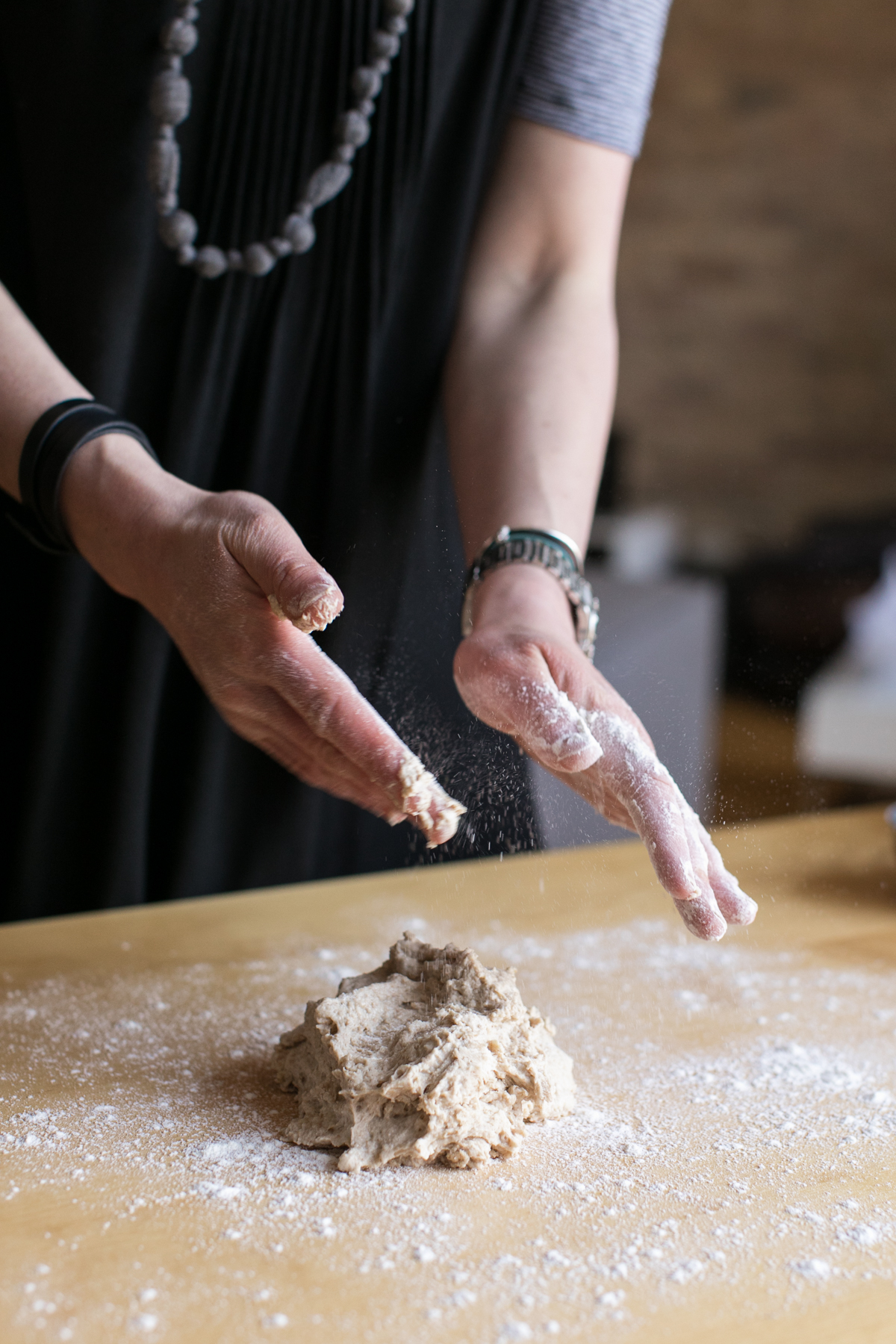 The process is very simple. You roll out the dough, grill it for a few minutes on each side and take it off the grates to assemble the toppings. You then return the pizza to the grill to quickly melt the cheese. My preference is to go light on cheese rather than cover up that perfect crust. I focus on sauces like tomato and pesto along with flavorful toppings that don't require much, if any, prep before they are added to the pizza.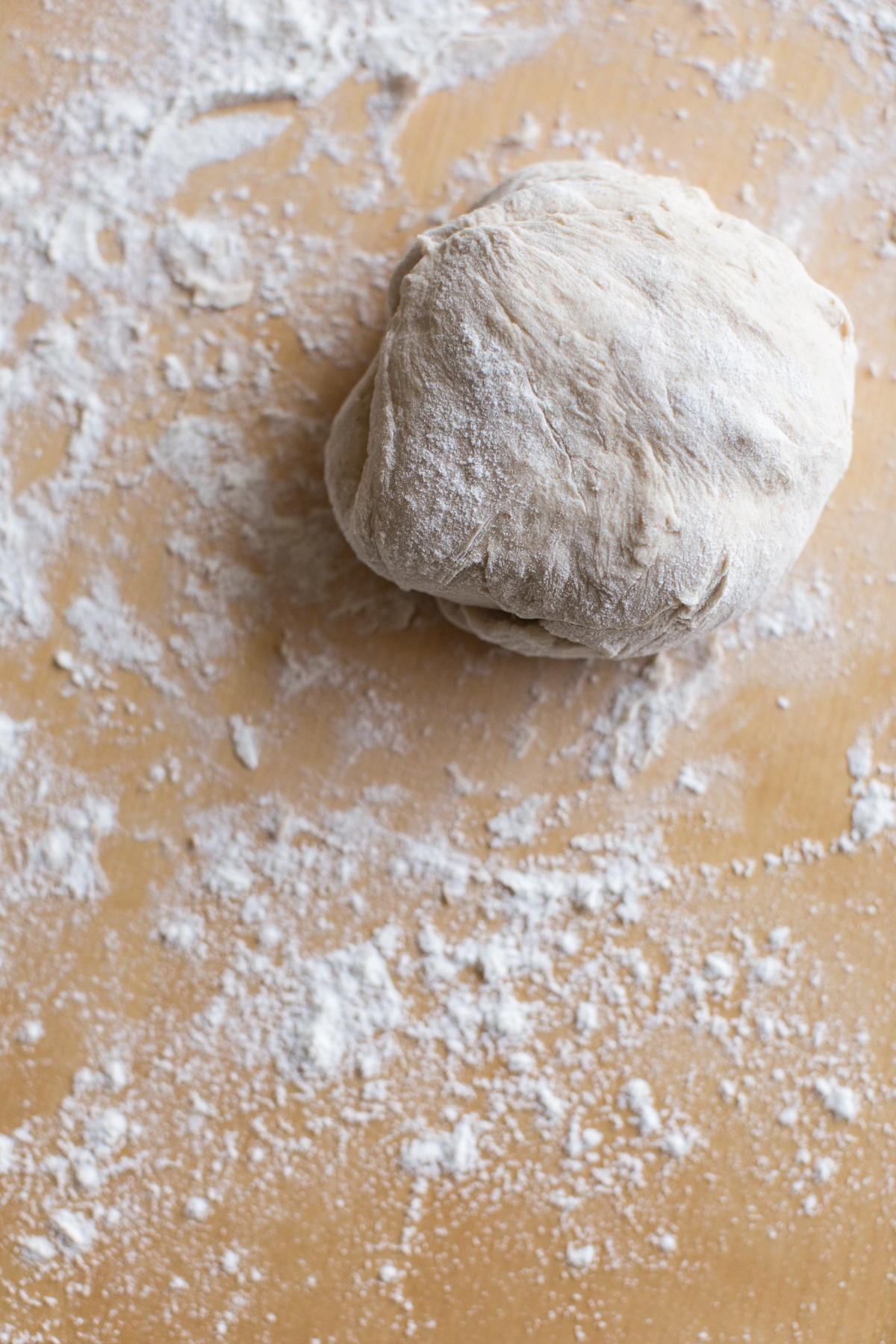 I like to make my dough and sauces from scratch, but store-bought, readymade ingredients will work, too. The olive bar at the grocery is the best spot for toppings. I stock up on roasted tomatoes, artichokes, peppers and of course, olives in all varieties and colors—just make sure they're pitted. Charcuterie and delicate greens like arugula are also fair game, but they should be added after the pizza has finished grilling.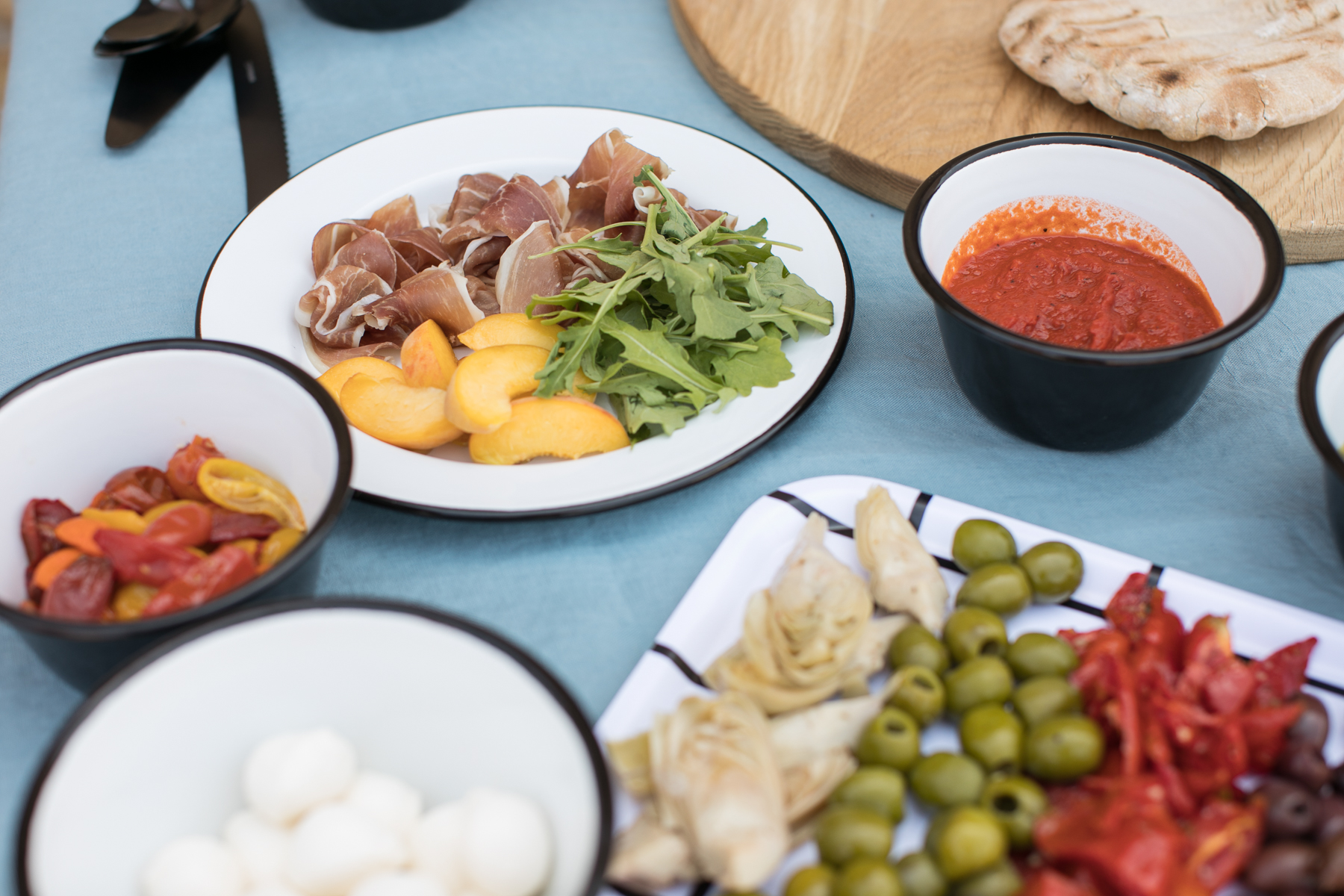 (Shop Falcon Enamelware + Grid Small Rectangle Tray)
These are a few of my favorite combinations:
Pesto + roasted tomatoes + shredded Italian cheese blend
Tomato sauce + pesto + roasted tomatoes + olives + artichokes + shredded mozzarella
Tomato sauce + peaches + arugula + prosciutto + fresh mozzarella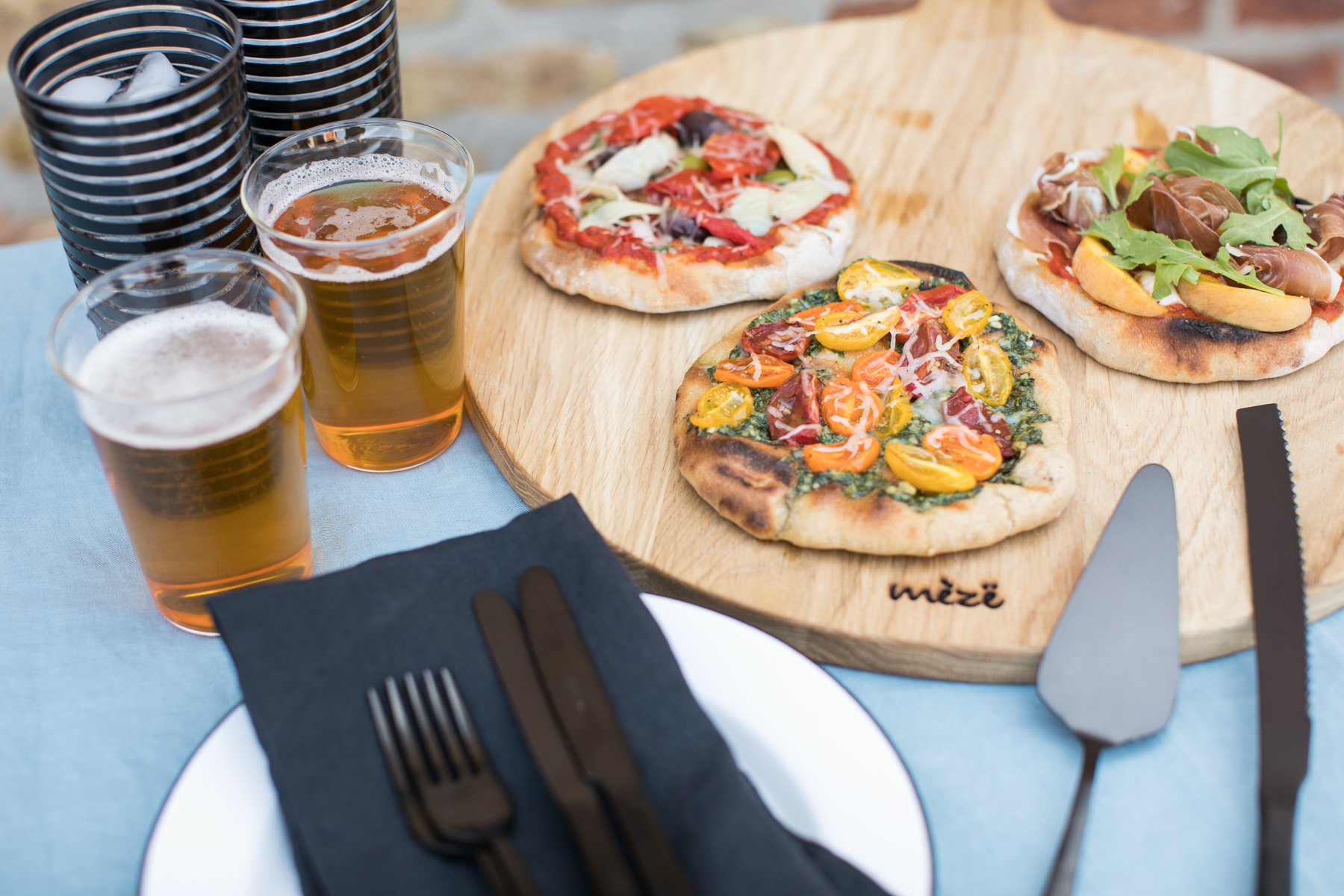 (Shop Galvin Black Flatware + Cast Tumblers + Cabana Black Tumblers)
Grilled Pizza
Makes 1-12-inch pizza
(You also can roll it out in individual smaller pizzas.)
2/3 cup warm water
1/2 teaspoon dry active yeast
1/2 teaspoon granulated sugar
1 teaspoon olive oil plus more for bowl
1 cup bread flour plus more for work surface
1/2 cup whole-wheat flour
1/2 teaspoon kosher salt
In a small bowl, combine the water, yeast, sugar and olive oil. Let stand until foamy, about 5 minutes. In a large bowl, combine the bread flour, whole-wheat flour and salt. Stir the wet ingredients into the dry ingredients. Once a shaggy dough has formed, turn it out on a floured work surface and knead for about 10 minutes until the dough is smooth and elastic.* Place it in an oiled bowl, cover and let it rise until it has doubled in volume, about 2 hours.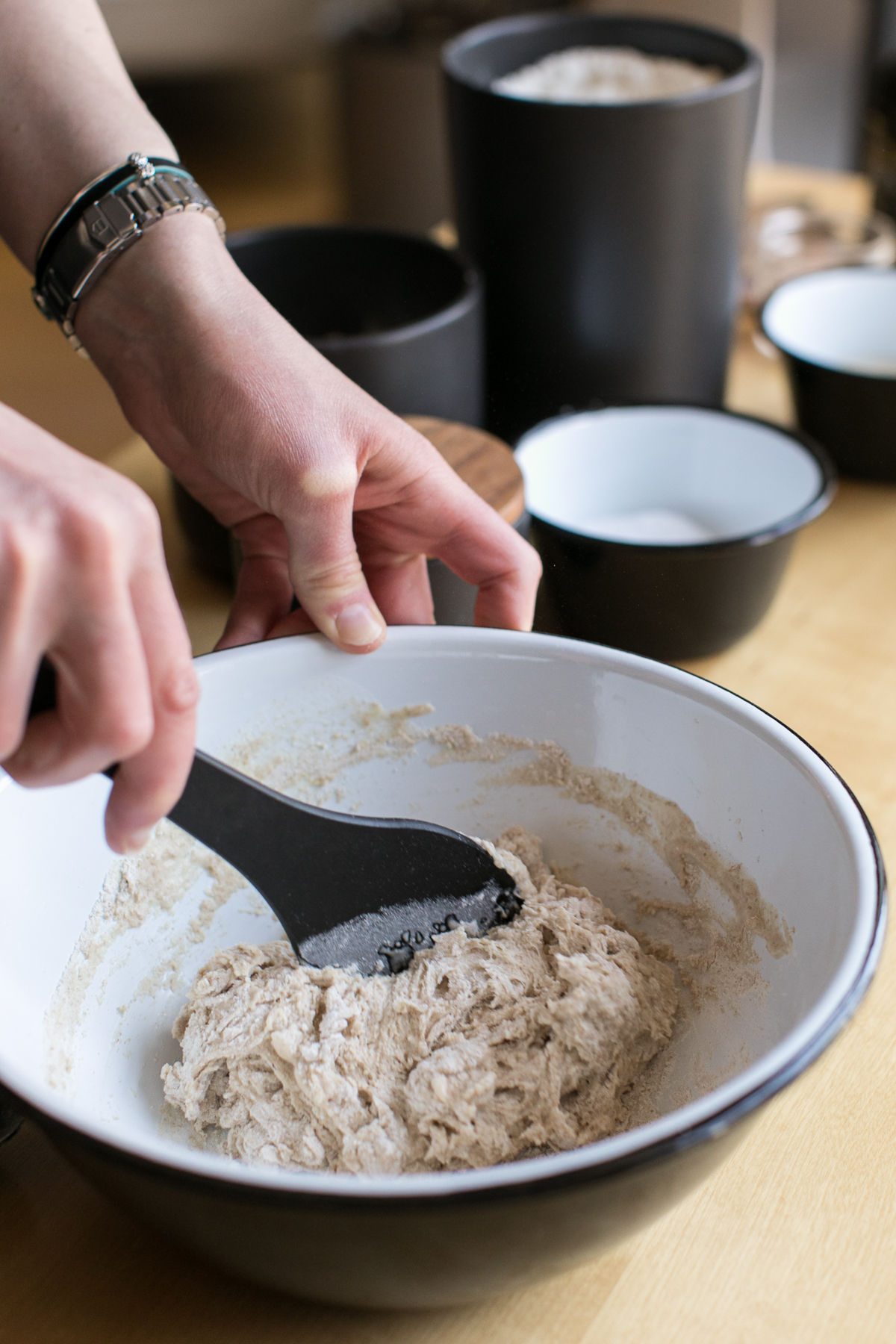 Preheat a gas or charcoal grill on high heat. On a lightly floured work surface, roll out the dough. (Shop Falcon Prep Set + Stoneware Containers)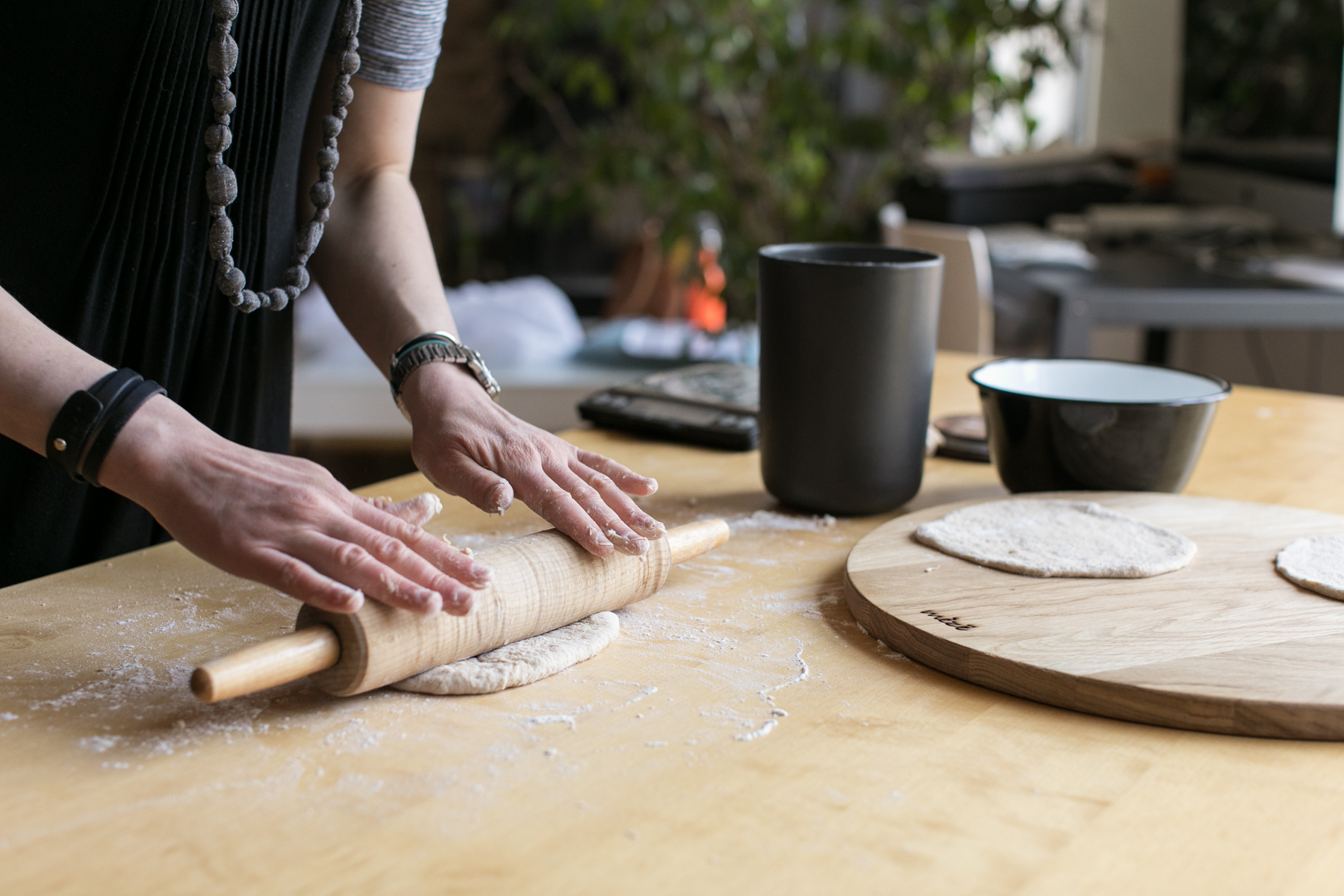 Place the dough directly on the grates and grill for 2-3 minutes with the lid closed until it has grill marks and has puffed up. Turn the crust over and grill for an additional 2-3 minutes.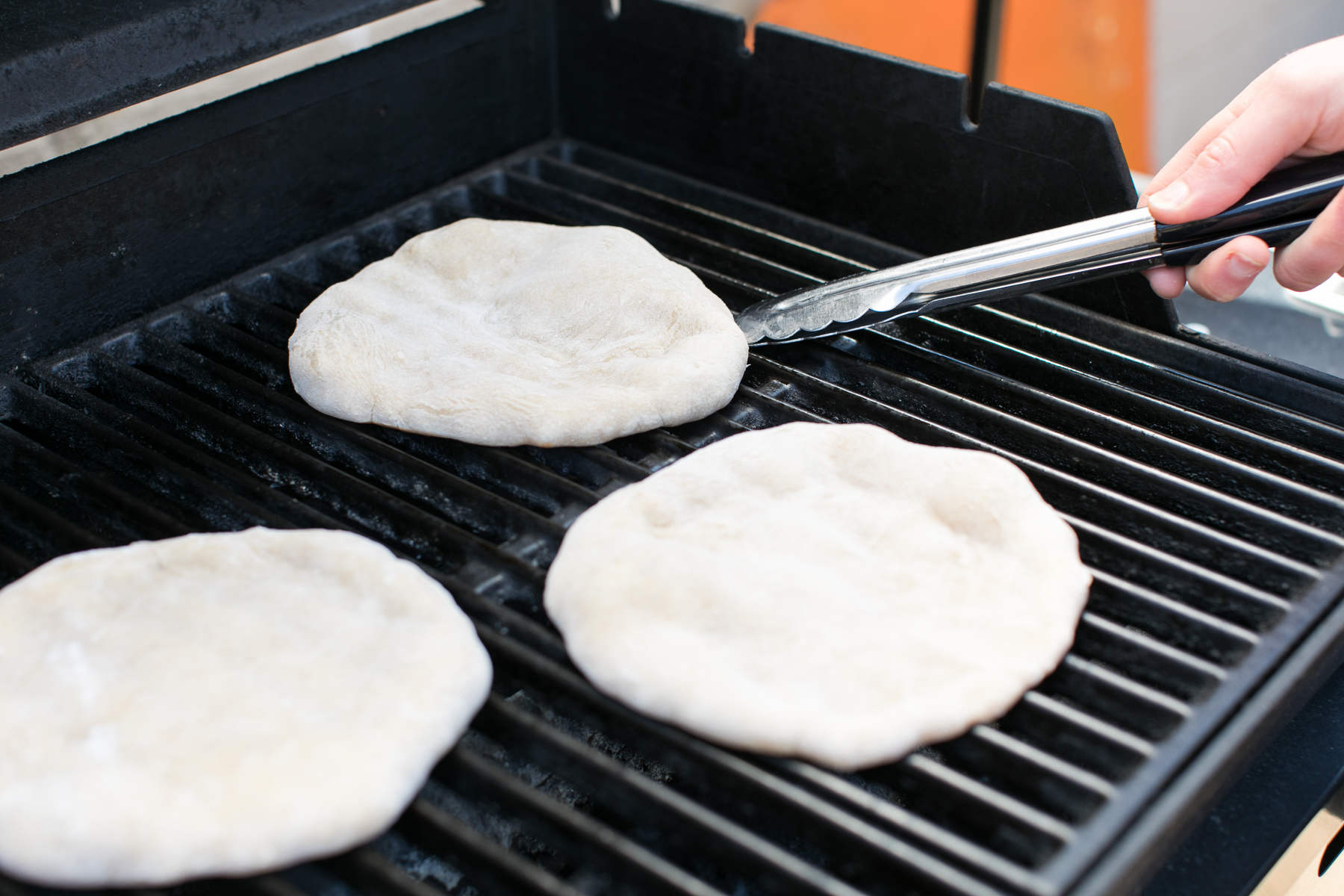 Take the pizza off the grill and add your desired sauce and toppings. Return the pizza to the grill for a minute or so to melt the cheese.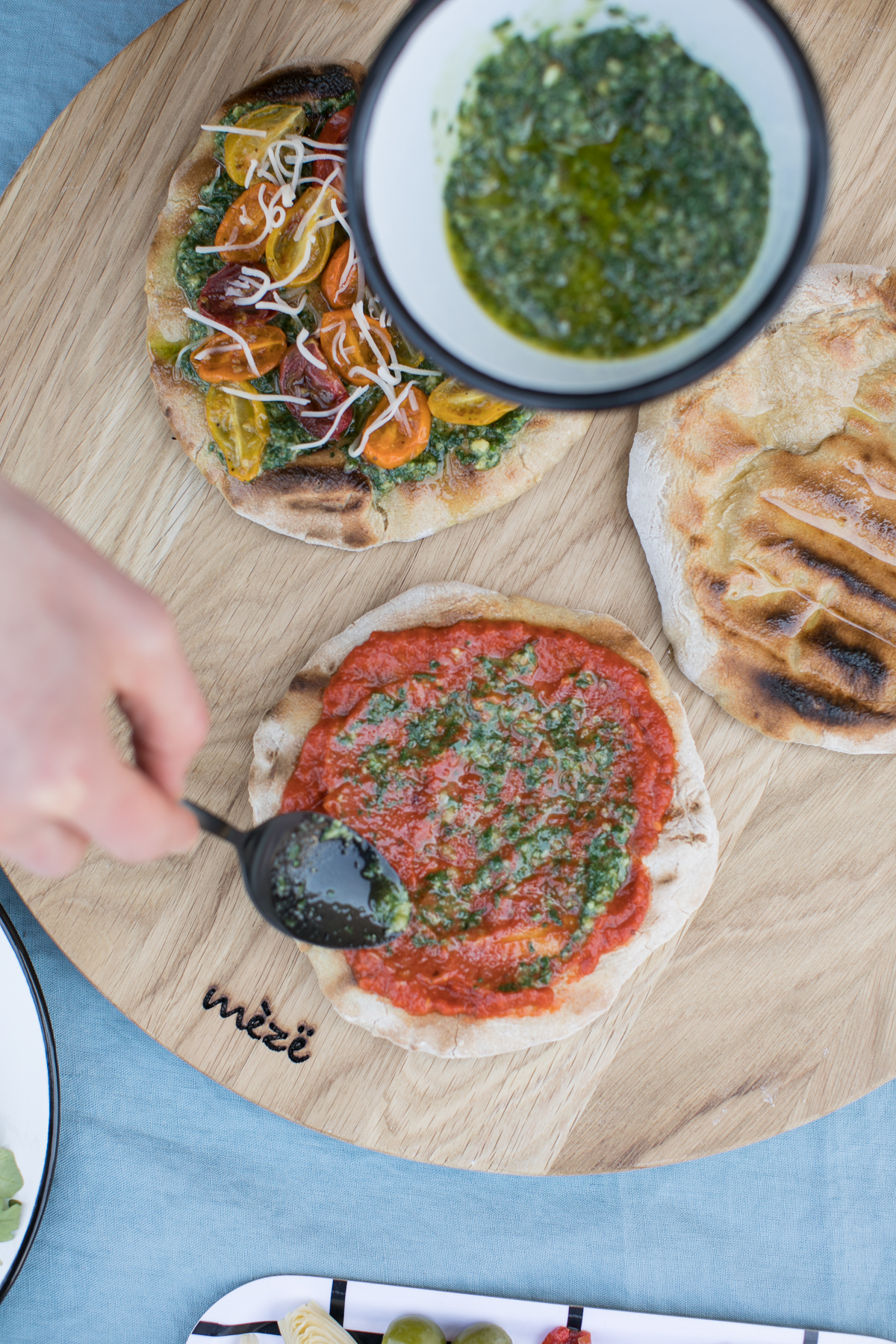 (Shop Oak Paddle Board)
*Note: The dough can be kneaded in a stand mixer fitted with the dough attachment or using a food processor.
Homemade Pesto
Makes about a half cup
2 garlic cloves, peeled
1/4 cup walnuts plus more for garnish
1/2 ounce Parmesan, grated, plus more for garnish
1 generous handful basil leaves
1/4 teaspoon salt
1/4 teaspoon black pepper
1/4 cup olive oil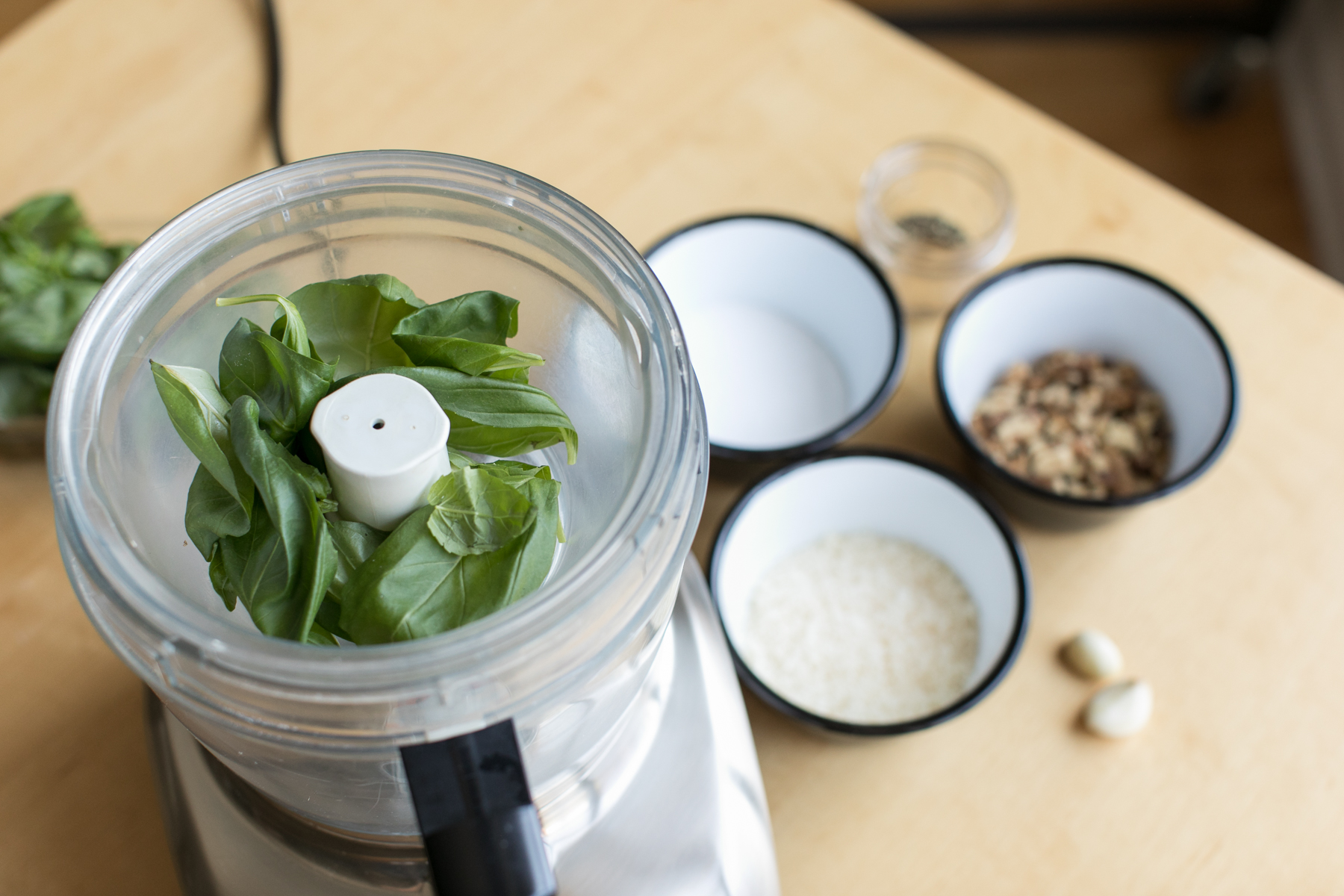 Pulse the garlic cloves in the bowl of a food processor until they are minced. Add the walnuts, Parmesan, basil, salt and pepper. Puree the mixture and while the motor is running, drizzle the olive oil through the feeder tube until the pesto is fully combined.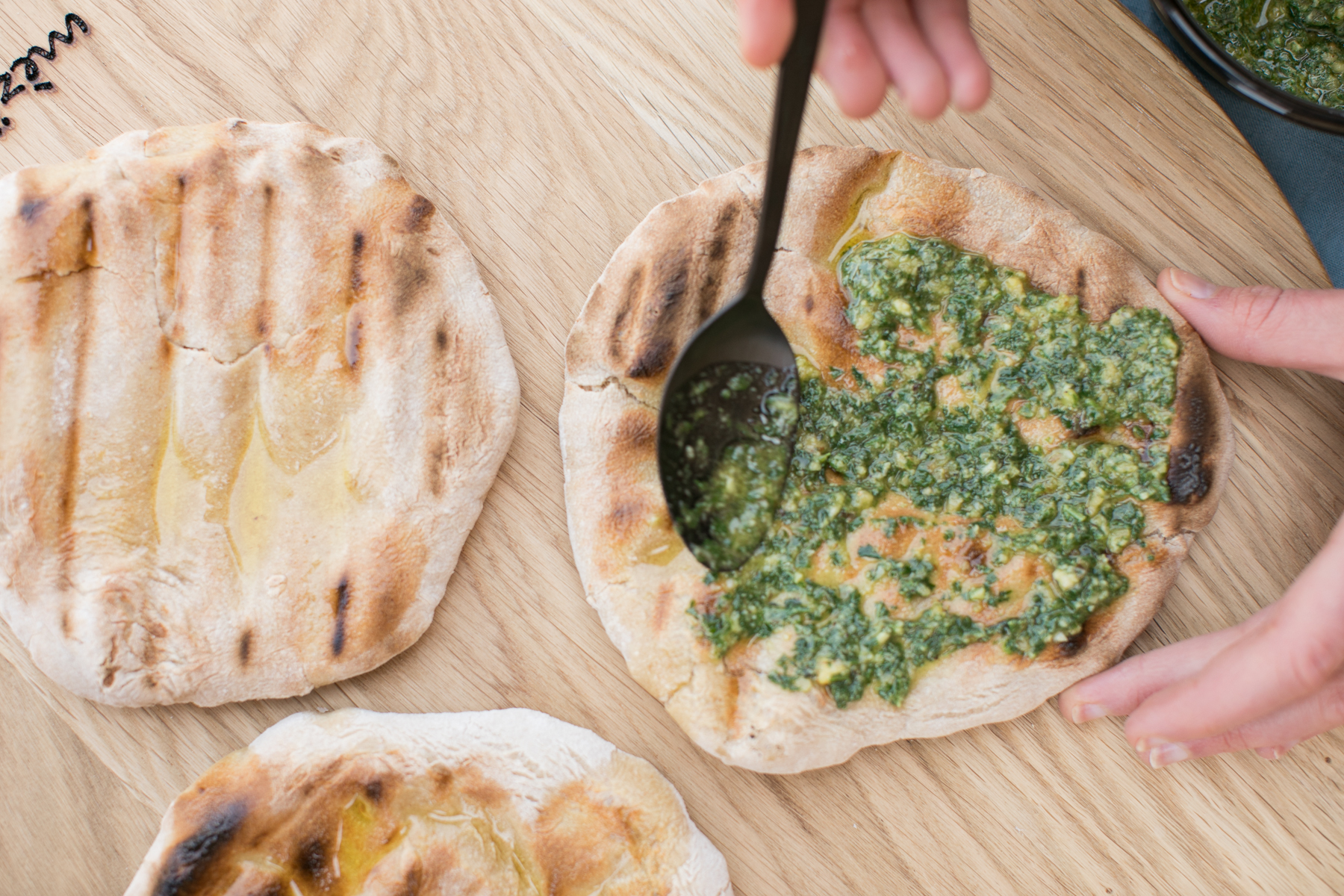 Thanks Paige! Find more recipes at Last Ingredient Blog