Mother's Day is around the corner and we worked stylist Janelle Gonyea to style a modern brunch perfect for Mom. Read along to learn about Janelle's style choices + watch her how-to video on creating your own mini flower corsages. Here's Janelle: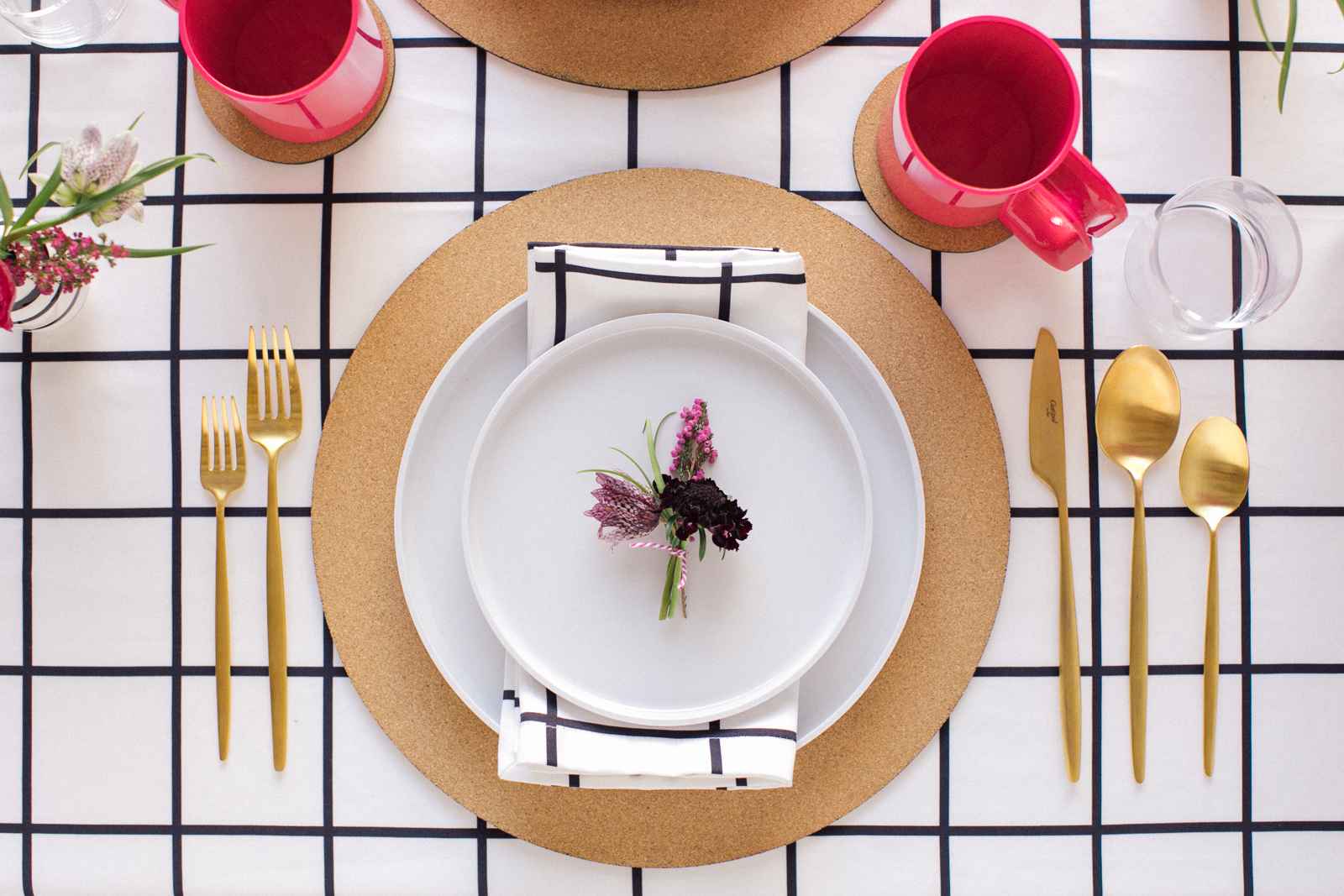 Mother's Day is a good time to have fun and be playful with color. I tend toward classic colors layered with accents of jewel tones in pinks, violets, and berry tones. My own mom loves purple, so maybe that's why! If we're lucky, our moms have been a staple in our lives, and this is the time to show them our appreciation. What better way to do that than to host a celebratory brunch?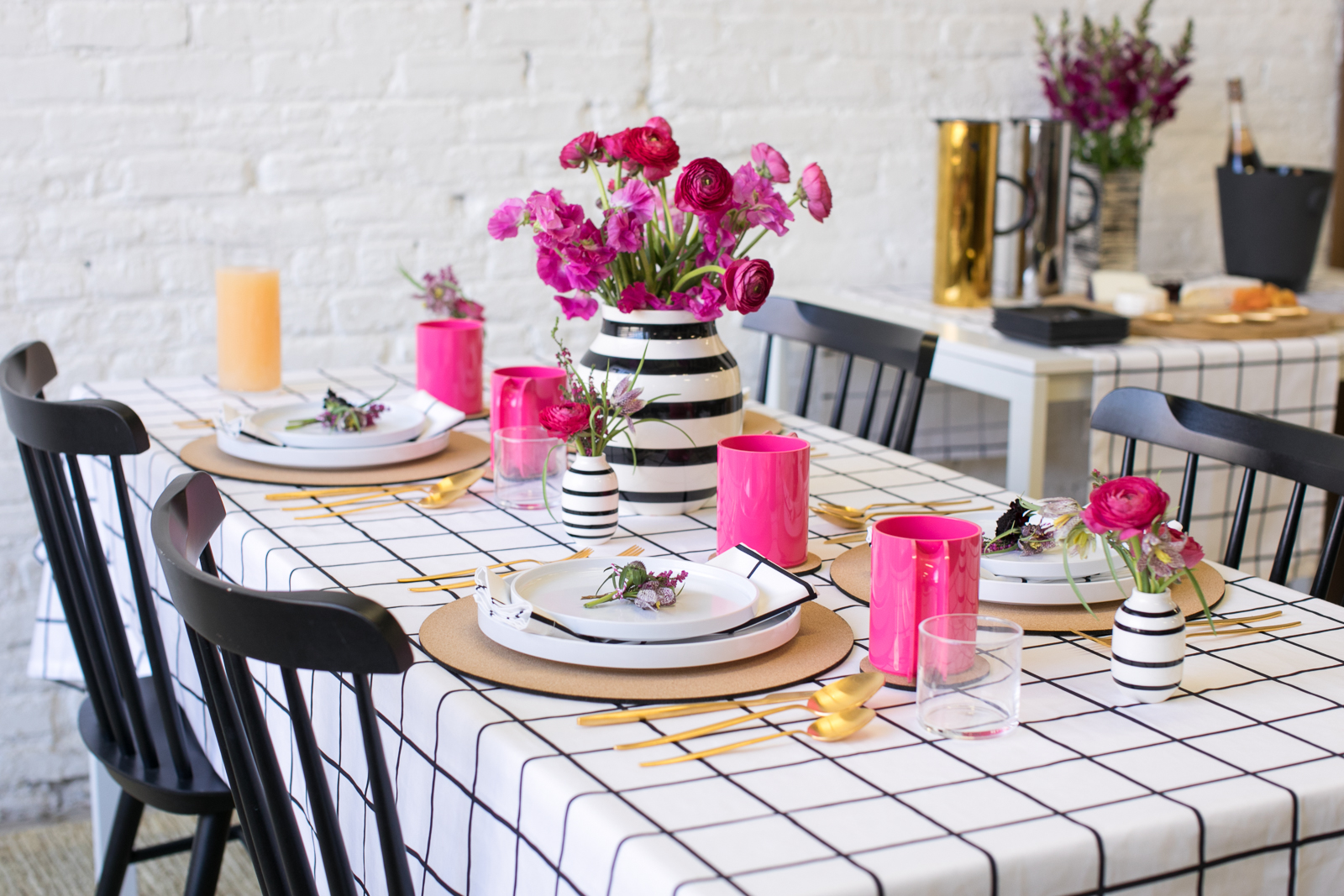 The Grid Black Tablecloth is the perfect base for any table. It provides a neutral, yet bold, backdrop while allowing the tableware to really stand out. The Eve Brushed Gold Flatware layers in some luxury, while the Heller Fuchsia Mugs give a shot of color to tie the table together. The Omaggio Vases were a great pairing with this linen, because they have a variety of sizes to play with.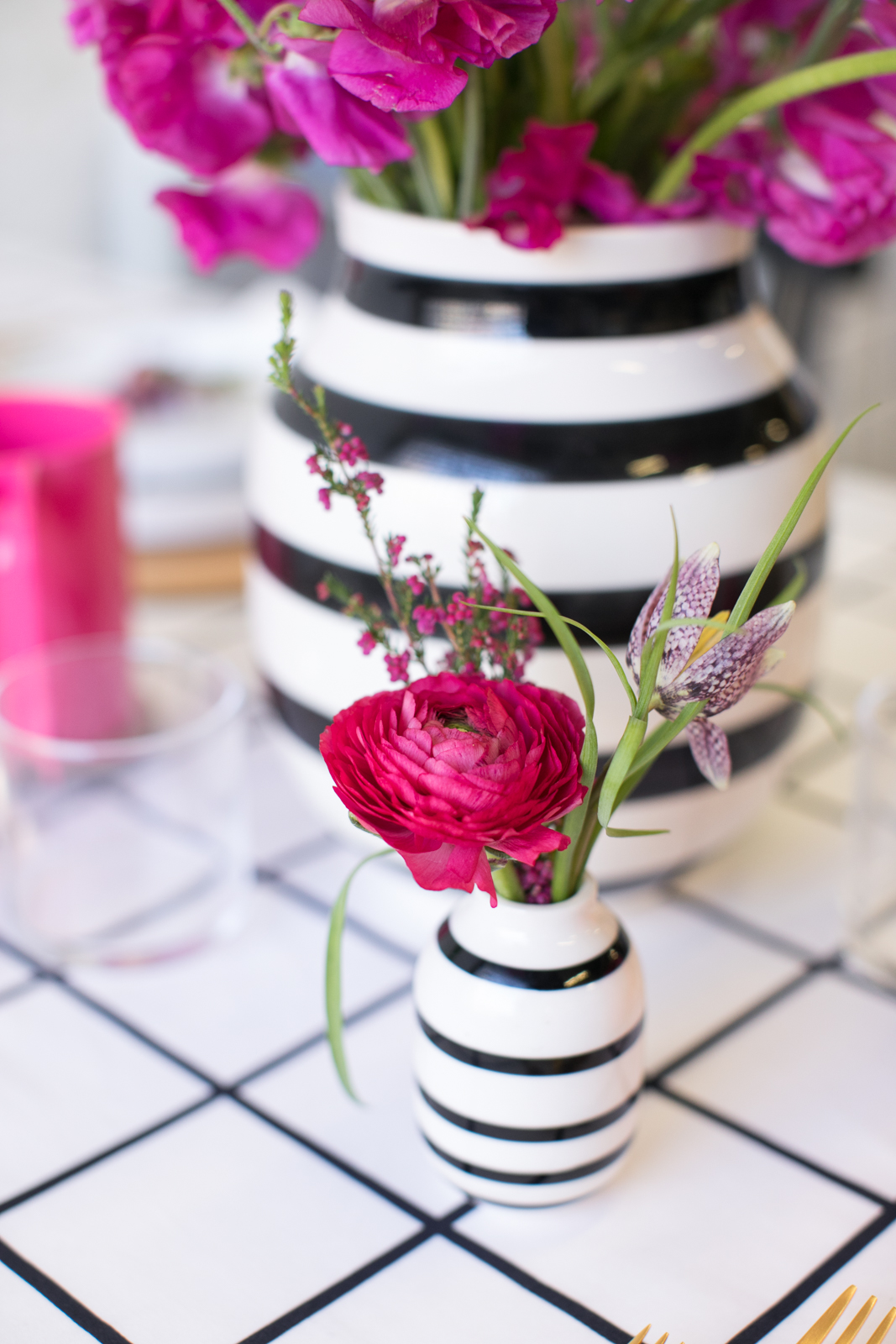 With any brunch, I like to keep things easy to access for the guests. I created a light side table complete with Stelton Gold + Chrome Carafes of coffee both caffeinated and decaf, a the Oak Paddle Board with a cheese spread, and chilled champagne in the Black Ceramic Champagne Cooler. To continue the look throughout the space, I added the Brushed Black Vase of purple blooms to complement the main dining table.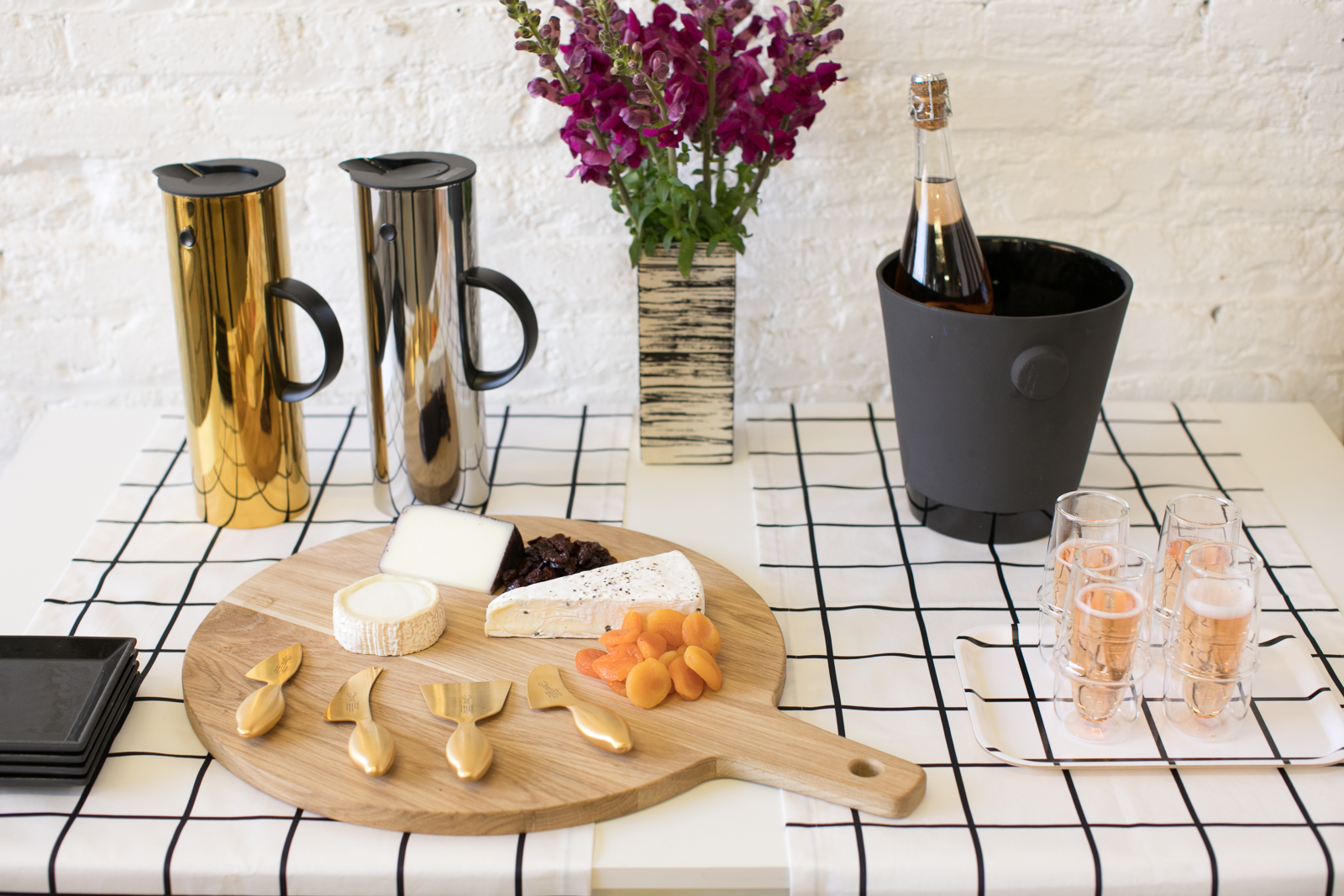 (Virtu Cheese Knife Set, Kronos Champagne Glasses + Grid Rectangle Tray)
For the florals, I wanted the color to really stand out and accent the mugs, so I stuck with that same vibrant pink. Anytime I'm using a limited palette with florals, I try to use texture to add interest and differentiate the blooms. I topped off the place settings with a petite pin corsage for guests of honor, because who doesn't like wearing inspired blooms?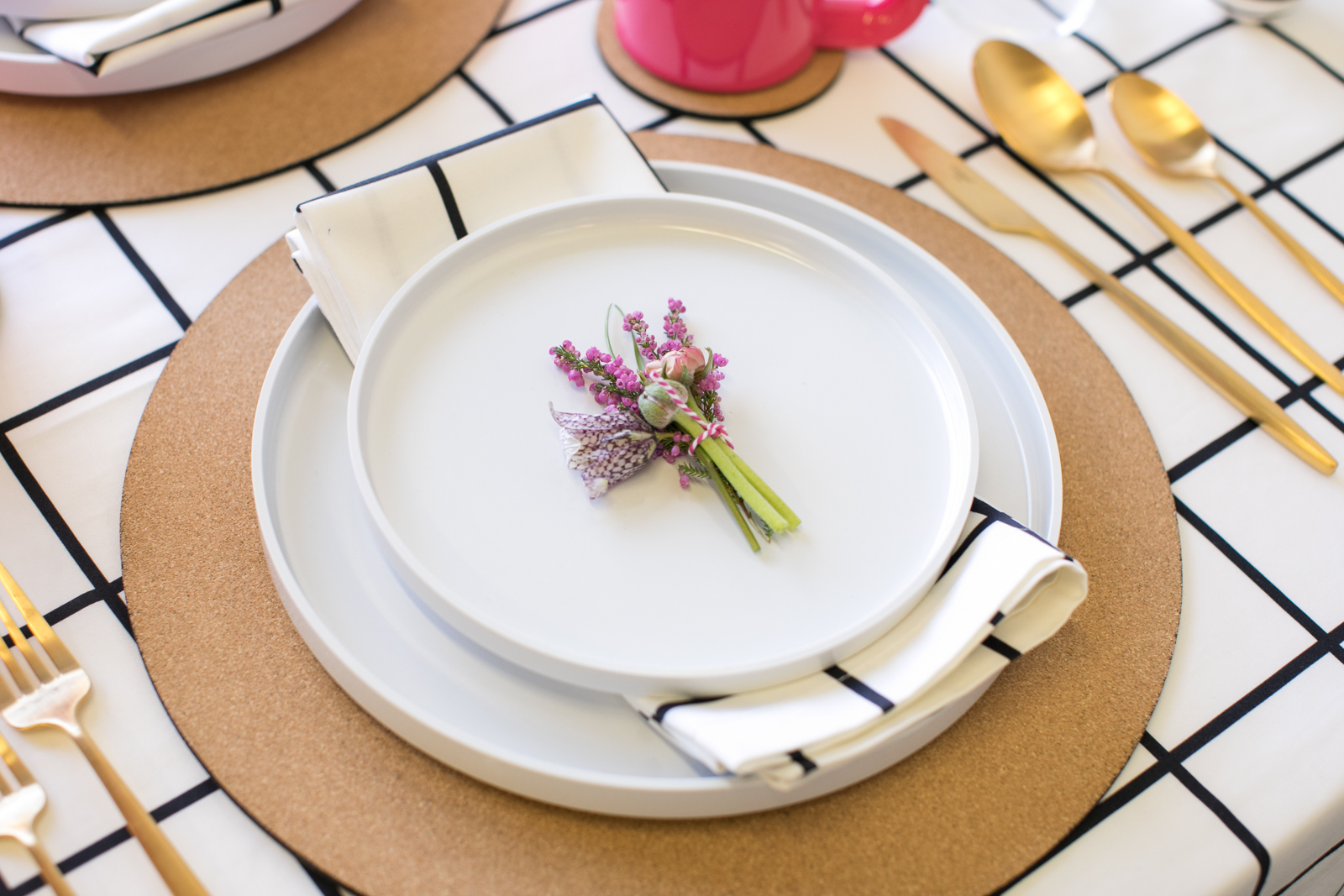 (Heller White Dinnerware, Grid Black Napkins + Cork Black Placemat)
To create a pin corsage of your own:
Choosing blooms is the best part of creating a petite wearable bouquet. Florals are in wild abundance in May, and any local flower shop should have a wide selection. You can focus on florals with full blossoms, go with all greenery, or some combination of the two. For these Mother's Day corsages I chose dark plum scabiosa, checkered fritillaria, and pink heather boronia to complement the table setting.
1. To create these sweet little bundles, you'll need floral clippers, your bloom choices, and ribbon or twine of your choosing.
2. Gather together the blooms you would like to use.
3. Clip the stems of each of the blooms to about 6″ while you piece them together.
4. Nestle the blooms together, starting with the largest bloom and moving outward to the greenery. 
5. Once you have an arrangement you are happy with, tie the blooms together with your twine or ribbon.
6. Clip the stems to a half inch to an inch of the tie.
7. Pin to your lapel or garnish your place setting and enjoy!