Simplicity. Even the word itself is beautiful – and rich in fresh, bright, and positive connotation.
As a company that embraces and purveys the modern, we live and breathe simplicity. Not only because it appeals to every clean-loving bone in our modern-loving bodies, but because it's at the core of the design philosophy we represent.
The interior style of a home or public space is not a matter of taste alone. It's also a reflection of certain beliefs and goals. So modern design is really shaped by and shaping its culture – both now and throughout history.
Understanding the foundations and philosophies of the modern movement can bring greater meaning to your interior spaces – and greater enjoyment to the process of defining your style!
So today, we're taking a closer look at one core element of modern design: simplicity. We're thinking about how it evolved, why it's important, and how we can translate this look into our own interior spaces.
Sounds like a fun excuse to get our thinking caps on.
Evolving toward Simplicity
The beginning of the 20th century was an era of huge social and political change, and these shifts quickly affected the world of interior design. The modern movement embraced new technologies that came with increased industrialization, while recognizing that this major cultural shift would need a new design language.
In response, modern design rejected the lavish excess of the Victorian Eclectic and Edwardian Art Nouveau styles. Pioneering architects and designers fused the traditional craftsmanship of the Arts and Crafts movement with industrialization and mass production, aiming for (among other things) simpler forms, cleaner materials, and a rejection of ornament.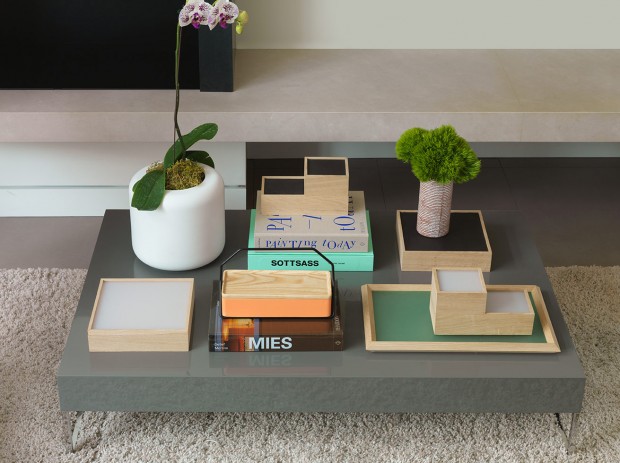 Soon, light, fresh shades replaced heavy, deep color. Intensely patterned wallpapers disappeared in favor of bright, white walls. Clean-lined steel, glass, and concrete arrived on the scene where dark, ornate furnishings and flourishes once reigned supreme. Unnecessary accessories were cast aside, opening interior spaces up for more comfortable living and entertaining.
Form and function began to dance hand-in-hand.
Modern Simplicity in Today's World
In short, today's modern style means clean, practical living.
Streamlined and sleek, modern interiors still avoid excessive accessories and ornate decoration. Which leads to a strong focus on function and organization. (Clutter: keep out!)
Polished materials like chrome and glass continue to take center stage, and furniture is defiantly simple, designed for economy of form. The shapes also reflect simplicity at every turn (or lack thereof): clean lines, functional curves, and basic shapes are hallmarks of the modern home.
Color is simple but often bold. Think monochrome walls, neutral furnishings, and bold pops of brave color peppered throughout. And speaking of bold, today's modern patterns will knock your socks off, fusing geometric tradition with 21st century personality for conversation-sparking looks.
More welcome today than ever, the modern home provides a calm, peaceful, and inviting reprieve from a world that beeps and buzzes with its demand for an ever-faster life.
Bringing Simplicity Home
Making simple beautiful isn't as hard as it might sound.
The first trick is to keep simplicity top-of-mind with every design decision you make. When choosing a piece, ask yourself about its function. When selecting an accessory, think about how it will be incorporated into your space. (Correct answer: seamlessly.)
Remember these simple-modern basics:
Your goal is a space that feels completely clutter free. A room built on a clean foundation and punctuated with only the most meaningful and truly-you pops of color, pattern, or punch. Think standout shades, bold geometric forms, or remarkable artwork.
And remember that these pops of personality are easy (and fun) to rotate thanks to your simply modern foundation. Your clean backdrop means that taking a room from holiday time to springtime can be as simple as changing out a few throw pillows, rotating a featured piece of wall art, and inviting a gorgeous new plant in for the season.
We'd love to see what modern simplicity means to you. Join the conversation by sharing your own pics with us on Facebook or Instagram.