With Spring, we welcome the beloved festivities of Passover and Easter. Do these religious holidays feel refreshing because of their profound historical and spiritual significance? Or because of the budding of warmer weather, the familiar pastel palettes, and the fact that they're happily less commercially exploited than their December counterparts?
No matter. What's important is that Passover and Easter represent important reasons to celebrate. To gather family, tap into traditions, and enjoy the beauty of simple pleasures.
Allow us offer some sweet tastes & tidbits for the occasions:
An Andalusian Passover Dish
Dare to be great? Try the Santiago Cake recipe from Spanish chef Ferran Adrià's wonderful cookbook, The Family Meal. With this recipe, Adrià – who is widely considered one of the best chefs in the world – has modernized an original Andalusian Passover dish named for a cathedral to which pilgrims travel: tarta de Santiago de Compostela. Translation: delicious.
To reflect your clean taste alongside this tasty dessert, serve the sugar-dusted squares on crisp Circa White Platters, with a mix of striking blue napkins in a Nippon, Harvest, or Tiles pattern.
Santiago Cake
– 3 extra large eggs, at room temperature
– 3/4 cup (170 g) granulated sugar
– 2 and 1/2 cups (250 g) ground almonds
– 1 pinch ground cinnamon
– zest of 1/2 lemon
– confectioners' sugar
Preheat oven to 350 F (180 C). Grease the bottom and sides on a 9″ x 13″ (minimum) or 12″ x 20″ (maximum) rectangular pan with butter. Add the flour and tap it around the pan. Tip out the excess. Line the bottom of the pan with parchment paper.
Break the eggs into a bowl and add the sugar. Using a free-standing mixer with wire attachement or an electric hand whisk, beat until thick and foamy, about 5 minutes.
Mix in the ground almonds (almond meall) and the cinnamon.
Finely grate the lemon zest and stir into the dry ingredients.
Gently add the ground almond mixture to the egg and sugar mixture. Fold in carefully with a spatula to retain as much air as possible. Immediately stop mixing when the batter is smooth. Do not overmix.
Pour the batter into the prepared pan. The cake batter should be about ⅝-inch deep.
Bake in the oven for 17 minutes, or until evenly risen, golden, and shrinking away from the sides of the pan. Remove from the oven and let cool in the pan.
Remove the cake from the pan by lifting the parchment paper. Cut into portions with a knife or a cookie cutter / mold.
Sprinkle confectioners' sugar over the top using a fine-mesh strainer before serving.
From The Family Meal
A Cake for the Easter Bunny
What fluffy little egg-toting rabbit wouldn't love his Easter festivities to include a cake made of carrots? It seems the perfect sweet treat for the day. And the incomparable Rose Carrarini offers up the perfect carrot cake recipe in her make-us-want-to-move-to-Paris cookbook, Breakfast, Lunch, Tea.

The perfect backdrop for sweet-veggie decadence? A Tiles Mauve Tablecloth with a mix of same-hued napkins in a gingham or tiles pattern, plus our beloved Teema White Dinnerware.
Carrot Cake
– Unsalted butter, for greasing
– 4 eggs
– generous 1 cup superfine sugar
– 1 and 1/4 cups sunflower oil
– 9 medium carrots, finely grated
– 2 cups plain all-purpose flour, sifted
– 1 teaspoon ground cinnamon
– 1 rounded teaspoon baking powder
– 1/2 teaspoon baking soda
– 1/2 teaspoon salt
– 1 and 1/2 cups finely chopped walnuts
For the icing
– generous 1/2 cup unsalted butter, softened
– generous 1 cup cream cheese
– 1/2 teaspoon natural vanilla extract
– 1/2 – 3/4 cup confectioner's sugar, depending on how sweet you like your icing
Preheat the oven to 350 F
Butter a 9-inch cake tin and line its base with parchment paper.
Beat the eggs and superfine sugar until they are light and fluffy but not too white and meringue-like.
Pour in the oil and beat for a few more minutes.
Fold in the carrots and then the flour with the cinnamon, baking powder, baking soda and salt.  Finally fold in the walnuts.
Pour the mixture into the prepared tin and bake for about 45 minutes or until a knife inserted in the center comes out clean.
Remove from the oven and cool the cake in the tin before taking it out.
To make the icing, beat the butter with the cream cheese for a few minutes till the mixture is smooth.
Add the vanilla extract and confectioner's sugar.
When the cake is cold, ice the top with the icing – it can be as smooth or rough as you like.
A Satisfying Seder Finale
Toward the end of Passover Seder, many families dig into a welcome helping of macaroons – delicious, flour-free treats that are as fun as they are easy to make. Enter Ginette Mathiot's time-honored bible of traditional French home cooking, I Know How to Cook – and, more specifically, the recipe for delectable almond macaroons found therein.
Once you've mastered the macaroons, serve them up on feast-worthy Harvest Table Linens. And pour your many glasses of Seder wine in Lempi Blown Glasses.
Bon appétit!
Almond Macaroons
– Butter, for greasing
– 2 and 3/4 cups ground almond
– 3 egg whites
– 2 and 1/2 cups superfine sugar
Preheat oven to 300°F and line a baking sheet with buttered parchment paper. Put the almonds in a bowl and mix in the egg whites a little at a time. Stir in the sugar and mix well.
Form the dough into slightly flattened balls and place on the prepared baking sheet. Bake for 20 to 25 minutes, or until lightly browned.
From I Know How to Cook
Sweeten up the Sweetest Day
Easter is a day of sweeter-than-anything scenes: pastel-tinted egg hunts among fresh-blooming Easter lilies, toddling little girls donning frilly church dresses, and sugary treats galore.
On this sweetest of days, what could be more appropriate than coconut cake? It's fresh, festive, and sure to disappear with much less elegance than it arrives when you serve it up from a Tier Cake Stand with Eve Brushed Gold Flatware.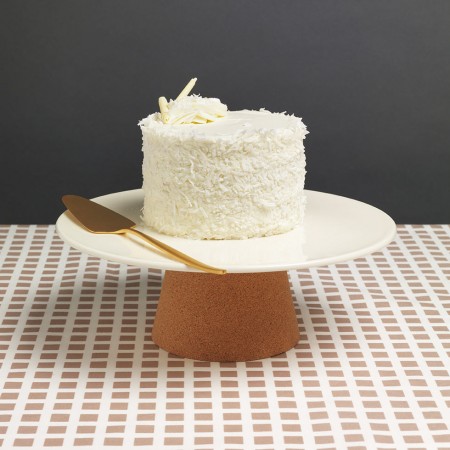 Prefer more cocoa with your coconut? Try Casey Barber's Coconut Cherry Suzy Q's, deliciously featured on Design Sponge. And for extra ooh's and ahh's (and savings), present it all with our cheerful Gingham Kitchen Linens in any shade.