If you're not drawn to the work of artist Matthew Hoffman, then you haven't seen it yet.
His message-themed artwork is not only uplifting; it's thoughtfully simple, frequently profound, and consistently true.
Known around the world for his You Are Beautiful project, Matthew's work appears on billboards, stickers, and public installations in every corner of the globe.
When we met him at one of our store events, we were instantly hooked – and impressed with his wide range of collaborations, both large and small. So we went to his studio and workshop to get our heads together and develop unique, positive messages for the holidays (and beyond).
We love the finished pieces, which are all made right in his Chicago studio. But we also love the guy: Matthew is one of the nicest people around. Despite the fact that his work is so influential, he is humble and persistently creative. Check him out:
Unison: Do you have an overarching design philosophy?
Matthew: Keep it simple. Keep it positive. Make meaning by making things.
Unison: What do you find particularly important about your work/art? What drives you to continue creating?
Matthew: To me, it's the interaction with people on a human level. I like to write phrases that I get something out of, and share those in the public. Where the viewer takes it is completely up to them. Hopefully, they get something out of it too.
I love that conversation with people through my art. It certainly keeps me going.
Unison: What's special about the design community in Chicago?
Matthew: I love the art & design community in Chicago. It's very collaborative, and everyone works really hard to help each other when they need it. I think this holiday catalogue is the perfect example of that – there are many outstanding Chicago designers & artists involved.
The collaboration with Alicia & Robert [of Unison] has been so rewarding. It was so great to brainstorm on what things could be, and run loose creating sample ideas. Their eye is very refined, and they did a great job curating down the collection into something really fantastic.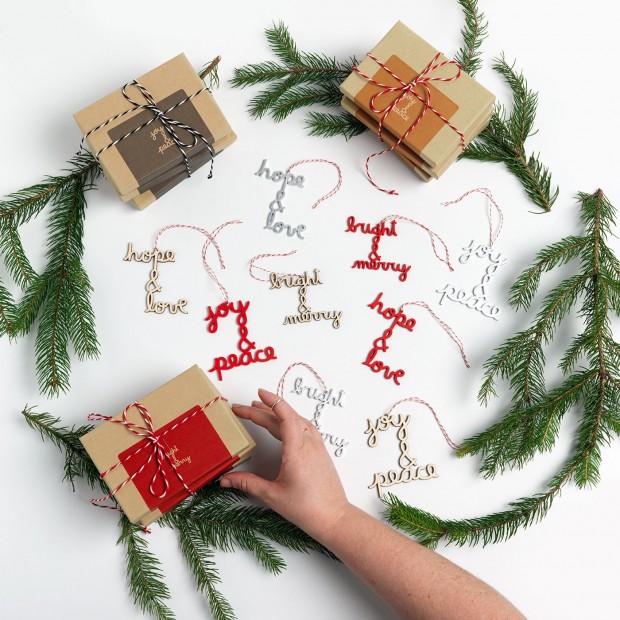 Unison: Well then, let's talk specifics: any background on the Good Times Wall Piece?
Matthew: It's all about having a good time.
Unison: Clearly. How about the silver pedestal?
Matthew: I love this little guy. I especially love how the text almost looks floating.
Unison: Agreed. And the You Are Beautiful silver wall piece is a favorite of ours, too.
Matthew: A classic reworked for the holidays.
Unison: Very festive. Speaking of which, we think the wooden ornament collection is going to be a big hit.
Matthew: These turned out really nicely. The perfect accent to the holidays.
Unison: One last question, very important: what do you want for Christmas?
Matthew: More hours in a day