Paige Adams from the food blog Last Ingredient is no stranger to Unison. She's shared her pizza on the grill with us, fruit infused water recipes, spring salads, and sensational Easter recipes that can be made all year round.
Now she's paired Unison cook and dinnerware with cozy recipes for fall. Her weekend takeover of our Instagram yielded some beautiful photos and delicious dishes, including Sweet Potato Poblano Soup, Acorn Squash Salad, and a Pear & Almond Tart. Enjoy!
Sweet Potato Poblano Soup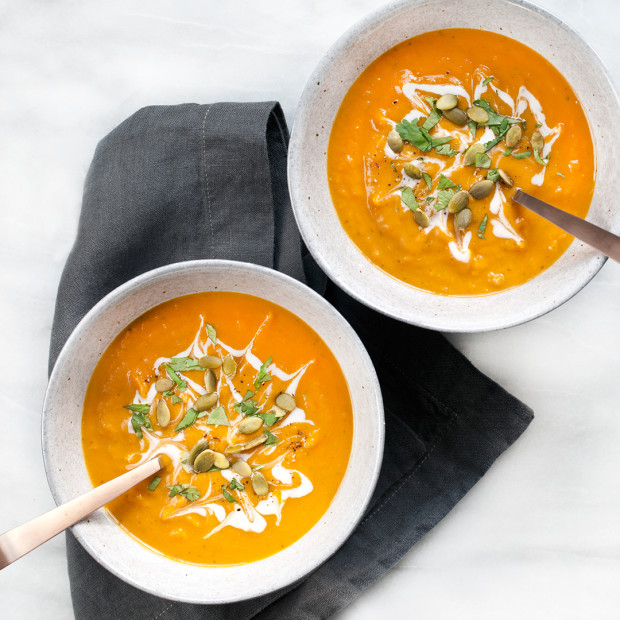 Serves 4
1 tablespoon olive oil
1 red onion, roughly chopped
1 poblano pepper, deseeded and minced
2 garlic cloves, minced
1 teaspoon ground cumin
1/2 teaspoon kosher salt
1/4 teaspoon black pepper
2 medium sweet potatoes (about 1-1/2 pounds), peeled and diced
3 cups vegetable stock
Chopped cilantro, pepitas and yogurt for serving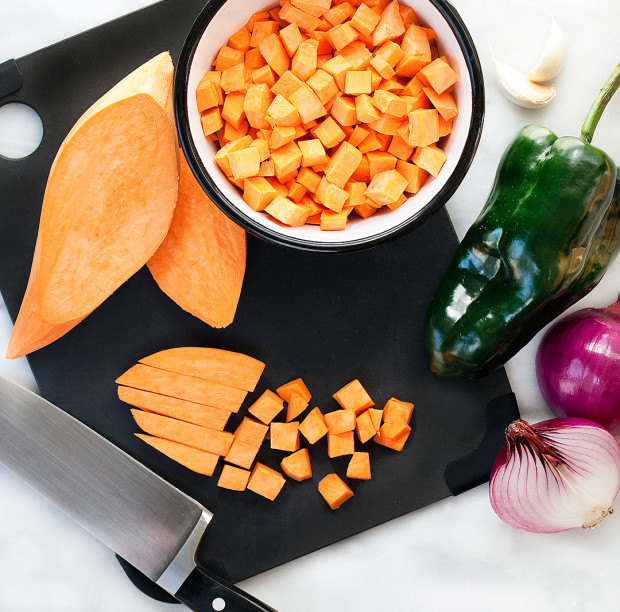 Heat the olive oil in a large saucepan over medium heat. Add the onions and sauté for 5 minutes until they start to soften. Stir in the poblano peppers, garlic, cumin, salt and pepper and continue cooking for an additional 3 minutes. Add the sweet potatoes and stock. Bring the soup to a simmer and cook for 15-20 minutes until the potatoes are soft.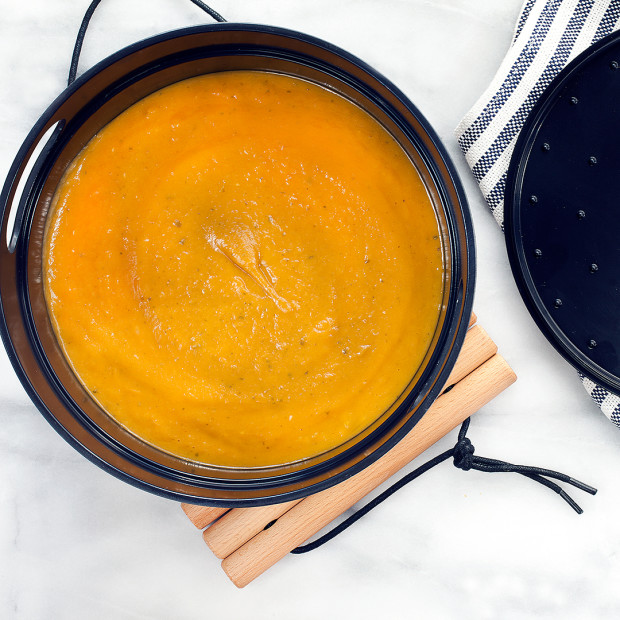 Carefully transfer the soup in batches to a blender to puree. Return the soup to the saucepan to reheat. Divide into bowls and top with cilantro, pepitas and drizzle with yogurt.
Acorn Squash Salad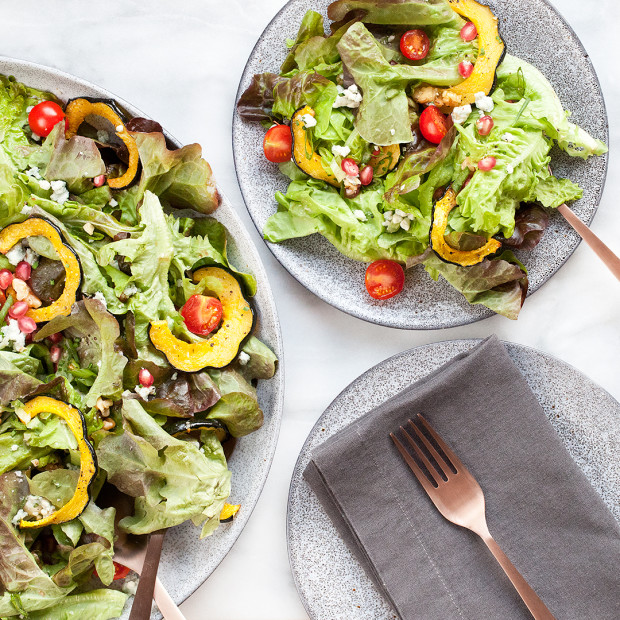 Serves 4
For squash
1 acorn squash
1 tablespoon olive oil
1/2 teaspoon kosher salt
1/2 teaspoon black pepper
For dressing
1 garlic clove, minced
2 tablespoons sherry vinegar
1/4 teaspoon kosher salt
1/4 teaspoon black pepper
1/4 cup olive oil
For salad
5 ounces mixed baby greens
Seeds of 1 pomegranate
1/2 cup walnuts, roughly chopped
2 ounces goat cheese, crumbled
Preheat the oven to 375 degrees F. Line a sheet pan with parchment paper.
Cut off the top and bottom of the acorn squash. Halve it lengthwise and scoop out the seeds. Thinly slice the acorn squash and toss with olive oil, salt and pepper. Arrange the squash slices in a single layer on the prepared sheet pan. Roast the squash for 25-30 minutes until tender.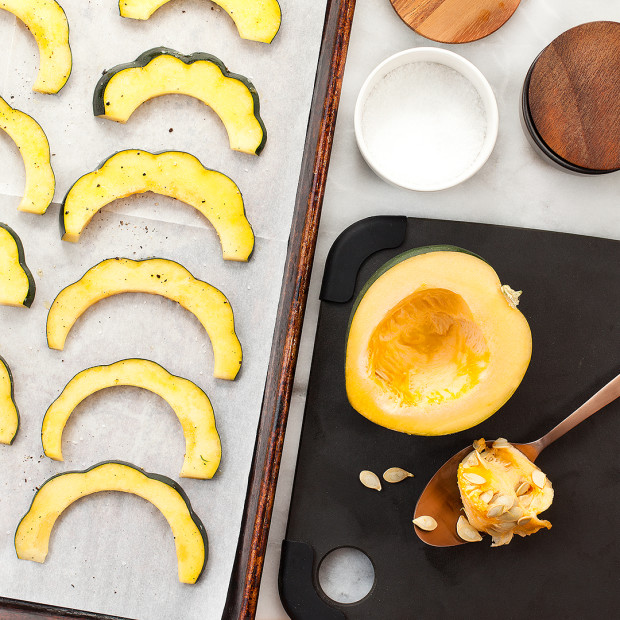 While the squash is roasting, make the dressing. In a small bowl, combine the garlic, sherry vinegar, salt and pepper. Whisk in the olive oil until fully combined.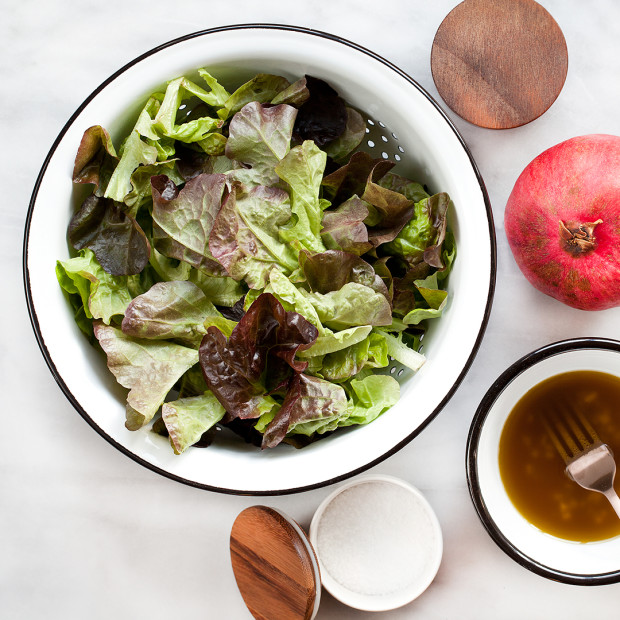 To assemble the salad, toss the squash, mixed baby greens, pomegranate seeds, walnuts and goat cheese with the dressing.
Pear & Almond Tart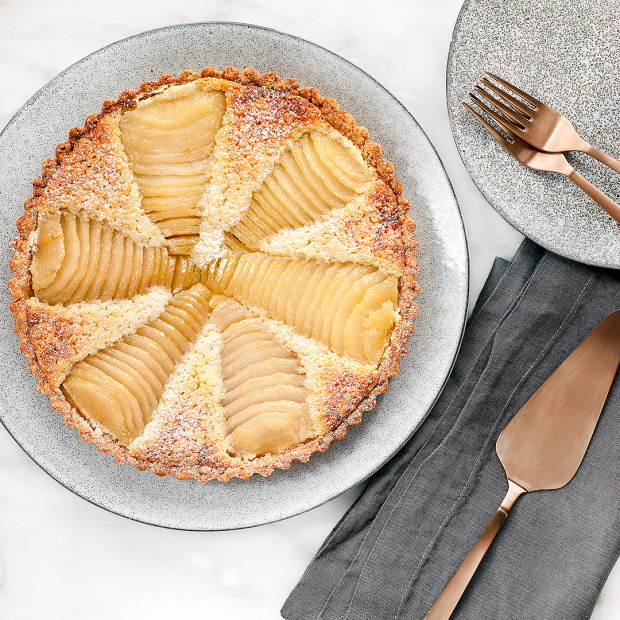 Makes one 10-inch tart
For crust
1-1/2 cups all-purpose flour plus more for work surface
1/2 teaspoon kosher salt
1/4 cup granulated sugar
1/2 cup (1 stick) unsalted butter, cold and cut into cubes
1 egg yolk
1 teaspoon vanilla extract
For pears
3 cups water
Juice of 1 lemon
1 cup sugar
1 cinnamon stick
3 Bosc pears, peeled
For almond filling
6 tablespoons butter at room temperature
3/4 cup slivered blanched almonds
1 tablespoon all-purpose flour
2/3 cup granulated sugar
1 large egg plus 1 egg white
1 teaspoon vanilla extract
1 teaspoon almond extract
Confectioners' sugar for serving
For the crust, pulse the flour, salt and sugar in a food processor until combined. Add the butter and process until the mixture resembles coarse sand. Add the yolk and vanilla extract and mix until the dough forms. Pat the dough into a 1-inch-thick disk, cover tightly with plastic wrap and chill in the refrigerator for 30 minutes.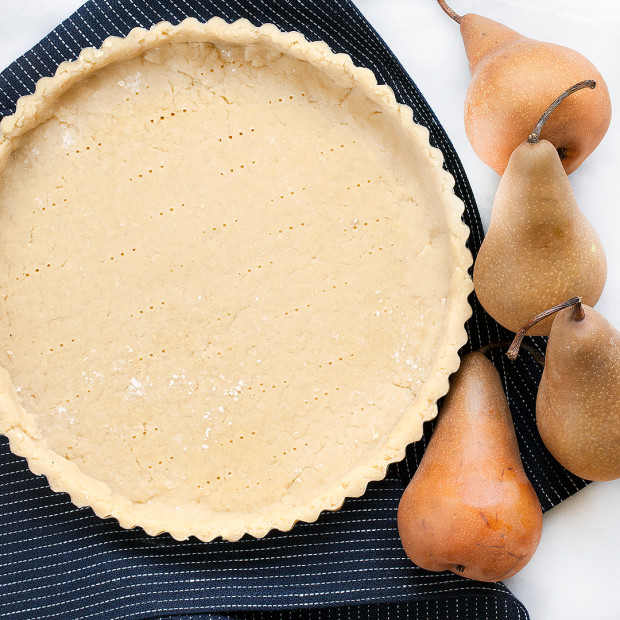 Preheat the oven to 350 degrees F. Bake the tart shell for 30-35 minutes until golden brown.
For the pears, bring the water, lemon juice and sugar to a boil in a large saucepan. Add the pears, reduce the heat and simmer until the pears are tender, about 15 minutes. Let the pears cool in the syrup. Slice the pears in half lengthwise, scoop out the seeds and stem and cut crosswise into thin slices. Press the pear halves to slightly fan out the slices.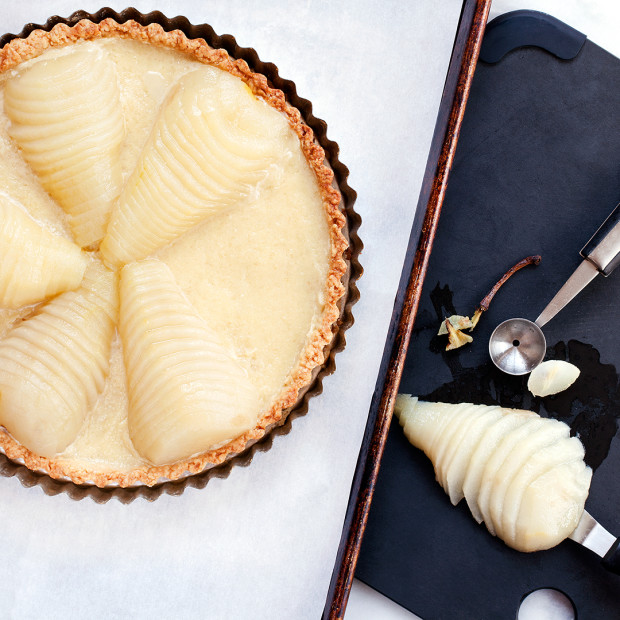 For the almond filling, mix the butter, almonds, flour, sugar, eggs, vanilla extract and almond extract in a food processor until smooth. Spread the filling into the tart shell. Place the fanned pear slices on top. (It helps to use an offset spatula to keep them together.) Bake 45-50 minutes until the almond filling is set and golden brown. Cool the tart on a wire rack. Dust with confectioners' sugar before serving.
See more from Paige at LastIngredient.com!