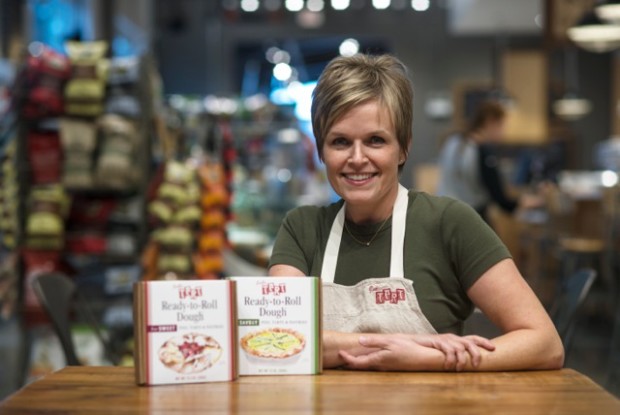 Chicago pie company Rustic Tart has been enriching the lives of locals for some time with its delicious selections. We at Unison were delighted to work with owner Stephanie Lock this summer for our Summer Pie Story (featuring an amazing blueberry tart), so we made sure to bring her back for a fall collaboration using Rustic Tart's Ready-to-Roll Dough.
Stephanie started Rustic Tart as a subscription-based pie company that offered two fruit pies a month during the growing season. As her business grew, she heard from more and more people that they loved the pies, but were too intimidated by the idea of making the dough to try baking on their own.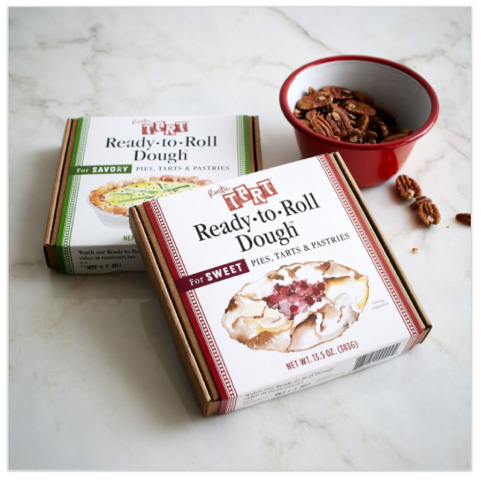 As Stephanie says, "[s]o I turned my focus to the dough, developing Ready-to-Roll Dough and leading classes here and there. The handcrafted all-butter disks of frozen dough, which come in sweet and savory varieties, are designed for the home baker and cooks, for making pies, tarts, quiches and pastries. You could even make a pot pie! Found in grocers' freezers (Whole Foods, Plum Market, Publican Quality Meats, Standard Market, Sunset Foods Highland Park), Ready-to-Roll can solve all your dough-making problems."
Backed by Midwestern savvy passed from one generation to the next, Rustic Tart has become a great resource for all things pie, offering everything from Ready-to-Roll Dough to recipes, how-to web videos and pie classes in and around the Chicagoland area.
Enjoy the Rustic Potato Tart!
Rustic Potato Tart
adapted from David Tanis' Savory Potato Tart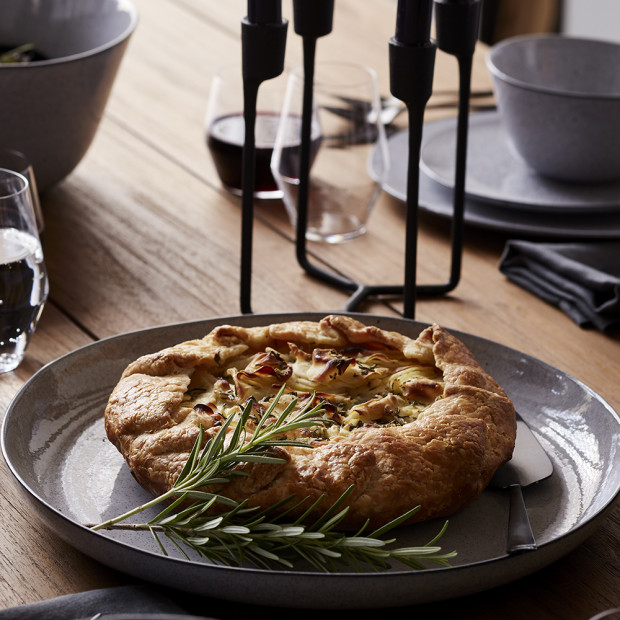 Dough:
1 package Rustic Tart SAVORY Read-to-Roll Dough™, defrosted and rolled to 12-inches in diameter.
Line a 9-inch pie plate with the rolled dough and refrigerate.
Filling:
1 1/2 pounds Yukon Gold potatoes
1 cup crème fraîche
2 teaspoons kosher salt
1/2 teaspoon black pepper
Pinch of grated nutmeg
2 garlic cloves, minced
1 tablespoon chopped fresh rosemary
For the egg wash:
1 egg yolk
1 tablespoon cream
Place oven rack in lower third of oven and preheat to 375ºF.
Slice potatoes as thinly as possible, using a mandolin or sharp knife.
Put potato slices in a large bowl and add crème fraîche, salt, pepper, nutmeg, garlic and rosemary.
Mix well with hands, making sure all slices are coated and well distributed.
Add potatoes to chilled dough in even layers making sure to not leave any of the crème fraîche mixture behind.
Gently fold dough over itself and the filling.
Brush dough top lightly with egg wash.
Bake for about an hour or until the filling is bubbling and the dough is browned.