The Fulton Collection combines handcrafted details with the clean lines of Scandinavian-inspired modern design. In keeping with that tradition's emphasis on linking design and nature, Fulton uses solid white oak, with resawn and hand-stitched leather details.
White oak is one of the most preeminent of hardwoods in North America, owing to its density, strength, and water-resistance. All pieces in the Fulton Collection combine white oak and maple (used for its durability, light tone and sleek surface) and bring a subtle warmth to a strikingly modern design.
The Fulton Bed
Handcrafted of white oak with a hardwood maple slat system (eliminating the need for a box spring), the Fulton Bed pairs high-level craftsmanship with modern design. As the designer says:
"Working with solid White Oak gives Fulton a more relaxed, less formal feeling which is carried even further with the use of re-sawn planks on headboards and doors, translating the texture of saw marks into a decorative element while expressing the production process as part of the design.
The resawn texture on the head and footboards adds an interesting detail to the bed, and the inset panels help make it a design standout. It features a natural stain with a clear, low-sheen lacquer finish that helps seal and protect the surface, while retaining the natural grain texture.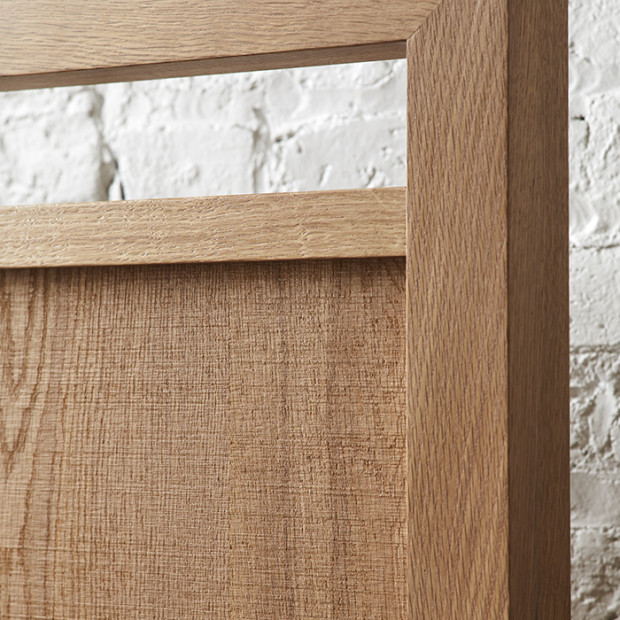 The Fulton Nightstand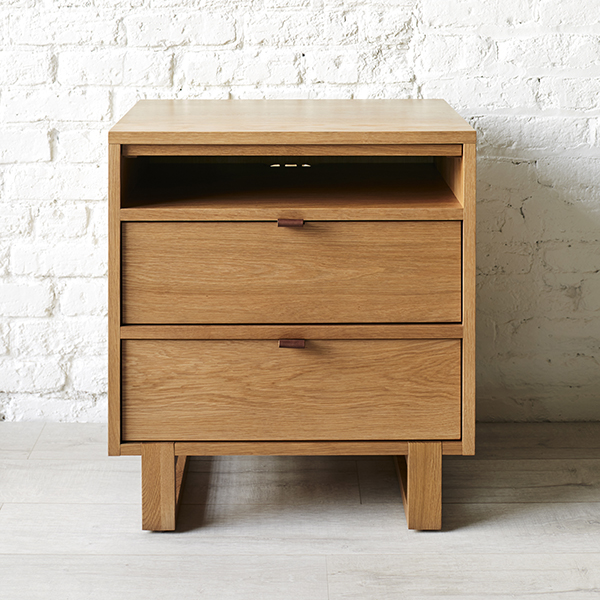 The Fulton Nightstand is designed beautifully and made of long-lasting hardwood, but its true genius lies in the details. Crafted of white oak, with solid maple drawers like the rest of the Fulton Collection, the nightstand features hand-stitched full grain leather drawer pulls, an ingeniously designed hidden pullout shelf to expand your surface space, and air vent cut-outs in the back allow for easy charging of electronics. A built-in coin tray and soft close drawer system are the finishing touches on this masterpiece of modern craftsmanship.
What Is Full Grain Leather?

Full grain leather is the highest quality grade of leather. It comes from the top layer of the hide just below the hair and includes all of the natural grain. The thickness makes it require a higher degree of skill to work with. It also makes it the longest lasting, as its strong fibers give it immense durability, and instead of wearing out over time, it develops an aged patina that makes it more beautiful over time.
The Fulton Chest + Dresser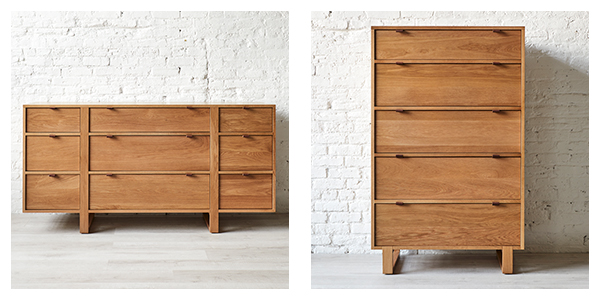 Distinguished by handcrafted details and crisp modern lines, the Fulton Dresser features solid maple drawers with a dovetail joint, hand-stitched full grain leather drawer pulls, and a built-in coin tray. Framed in white oak with a soft close drawer system, its smart and timeless design provides the perfect note of warmth to any bedroom.
What is a Dovetail Joint?

The dovetail joint has been used in woodworking for millennia. Two pieces of wood are cut in trapezoidal shapes to interlock with each other. It requires skilled craftsmanship and eliminates the need for mechanical fasteners like bolts or screws. All drawers in the Fulton Collection feature dovetail joinery in solid maple drawers.
We're delighted to add these stunning pieces to the Unison collection. Built to last, their timeless design and superior craftsmanship make them an ideal choice for any modern home.