When we connected with a new food stylist for our holiday catalog shoot, we all got infected with a bit of early cheer.
The wonderful Jim Rude is anything but rude. A 20-year food-styling veteran, he humbly attributes his success to hard work and a little luck – although we can attest to the fact that a lot of talent has gone into the mix as well.
And, since Jim began his career as a chef, he doesn't just know how to make food look amazing; he knows how to make it taste divine.
The squash bisque he whipped up for us looked particularly delicious. So we tried it for ourselves – then begged for the recipe.
Good thing for all of us, Jim's kind enough to share:
Butternut Squash Bisque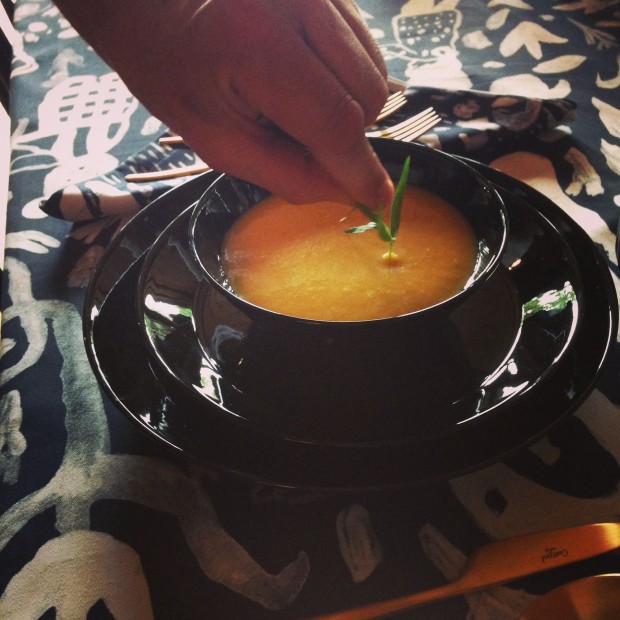 Prep Time:  20 minutes
Total time:  75 minutes
Serves 6
1 ea. butternut squash, halved lengthwise, seeded
2 Tbsps. EVOO, divided
1 med. onion, diced
1 ea. granny smith apple, peeled, seeded, and chopped
3 cloves garlic, chopped
1 tsp. curry powder
1 Tbsp. honey
3 cups reduced sodium chicken broth
Salt & pepper to taste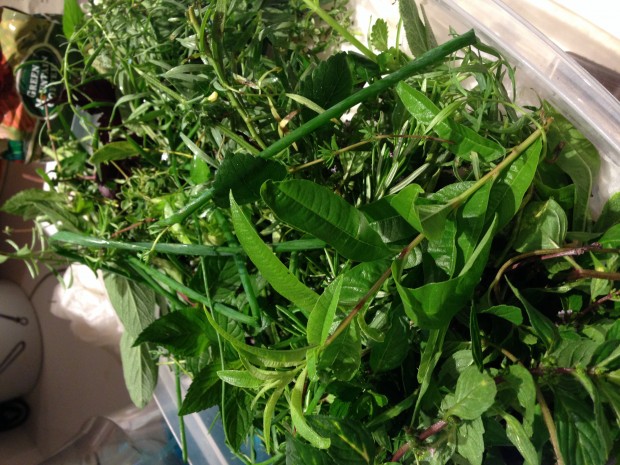 Directions:
1. Rub cut sides of squash with 1 tablespoon of oil. Place cut side down in a 13″ x 9″ baking dish. Bake for one hour or until squash is soft.
2. Meanwhile, in a large saucepan or dutch oven, saute onion, apple, and garlic in remaining tablespoon of oil over medium heat until softened. Add curry powder and cook an additional minute.
3. When squash is tender, scoop flesh out with a spoon, transferring it to the saucepan with the onion/apple mixture. Add the honey and chicken broth. Simmer over medium low heat for 30 minutes or until hot.
4. Puree mixture with a hand blender or regular blender until smooth. Season to taste with salt. Serve in bowls with sprigs of fresh herbs.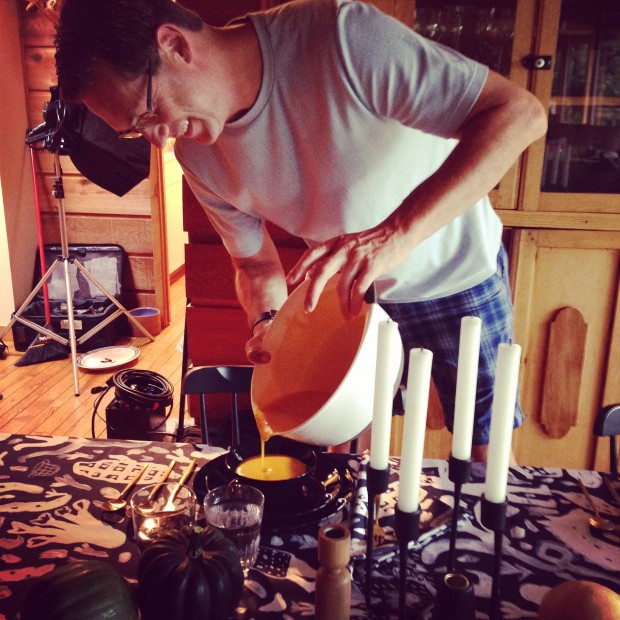 "This creamy classic is a great way to kick off the fall season," Jim explains. "For added flavor, try it with some crumbled biscotti cookies or fried sage leaves on top."
Check out Rude On Food for more good stuff from Jim.